Well, I officially have 1 week left to get our homeschool area whipped into shape before I'm about to embark on teaching our 5 year old Kindergarten. Oh my. I am excited though. Scared, nervous, but yet, still pretty relaxed about it all if that makes any sense. I am excited about the possibilities, learning more about the Bible and Jesus, the relaxed schedule, the freedom to do what we want and not have to be woken up by an alarm clock to be at school at a totally ridiculous time is so appealing.
One thing I HAD to have was a place to put everything. Because remember, this is my first rodeo with schooling and I basically had nothing. We are kind of maxed out with storage around here. So when I saw this amazing bookshelf during one of Joss & Main's sales a few weeks ago, I snagged it right up with credits I had there!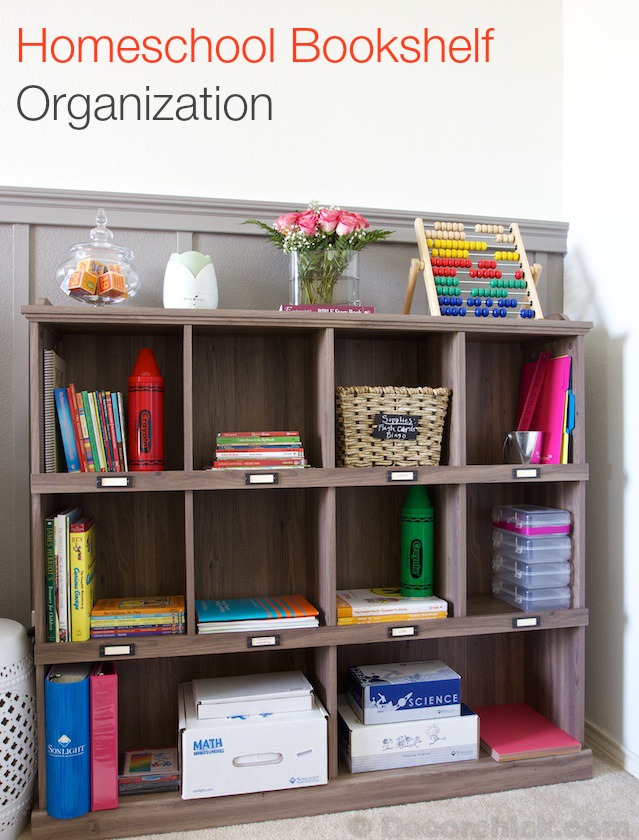 Isn't that piece great? It was a great height, deep shelves and plenty of them, with room to grow. It was about $160 at J&M, and I looked up the company and it's made my Sauder, and you can buy this from walmart.com. So if you love it, snag it up! They also make a taller bookshelf which is pretty too.
And no, I can guarantee you we won't probably ever have fresh flowers in our homeschool room again. They were just from this past weekend when my family got them for my birthday. :)
We already had the abacus, the cloche, blocks, and you better believe I'll keep one of my Young Living diffusers in here because Lord knows, we will need some Peace & Calming.  Maybe a little Stress Away. You never know. :)
So everything else on the bookshelf is basically the full curriculum set.  I about died when it came and when I actually finally decided to unbox it all. It took a while, not gonna lie. I'd open the box, take some paper out, then put it right back in and let it sit for another week. #babysteps
And then I kind of had a panic attack when I saw the teacher's guide.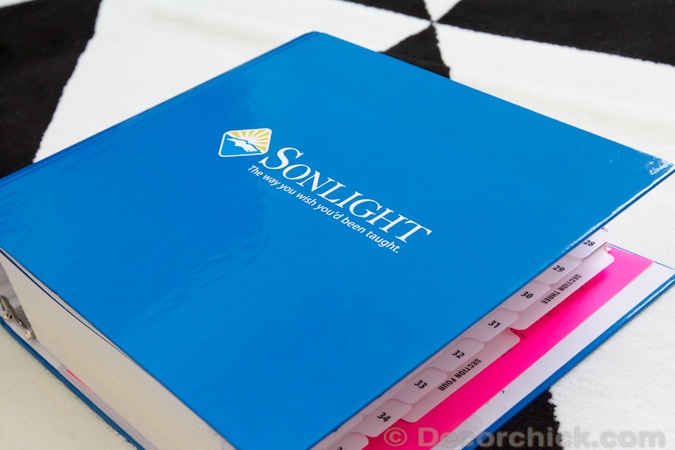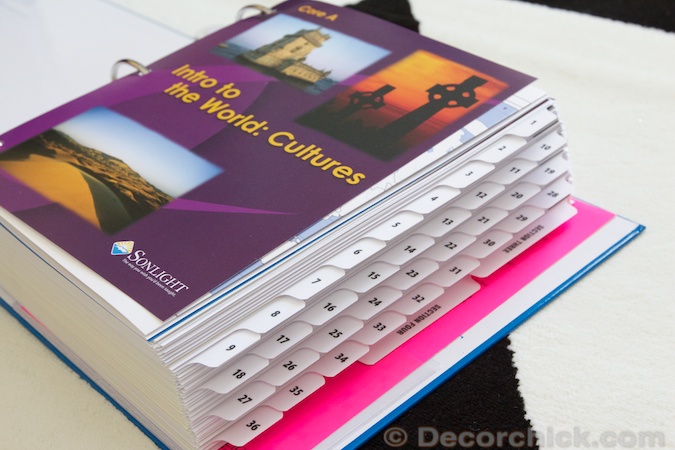 Of course it's intimidating at first. But those tabs are labeled for the entire school year so you know what to do each week. It's actually very user friendly.
I mentioned before that we chose Sonlight because of that exact reason. I needed the plans laid out for me, at least for this first year. I am not disciplined enough to write them on my own, so I hope it works out well. I'll let you know how it works out!
I do LOVE all of the books the curriculum came with though. Now that gets me excited!!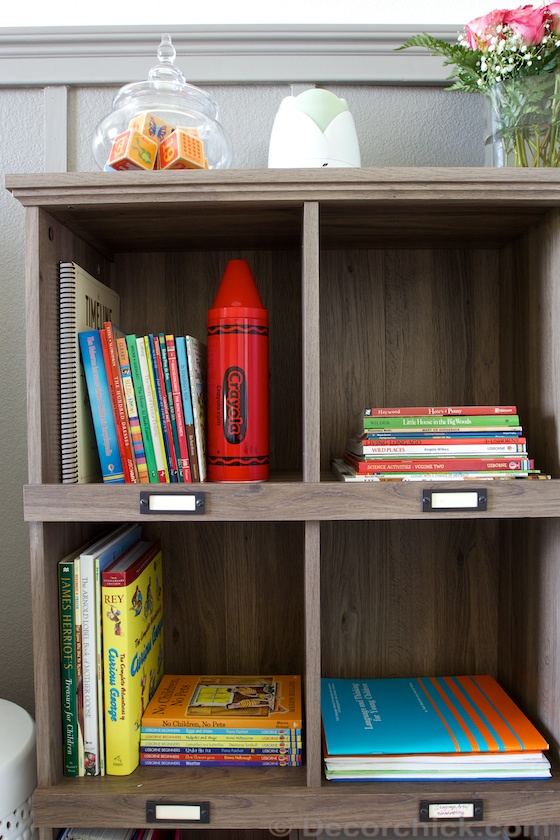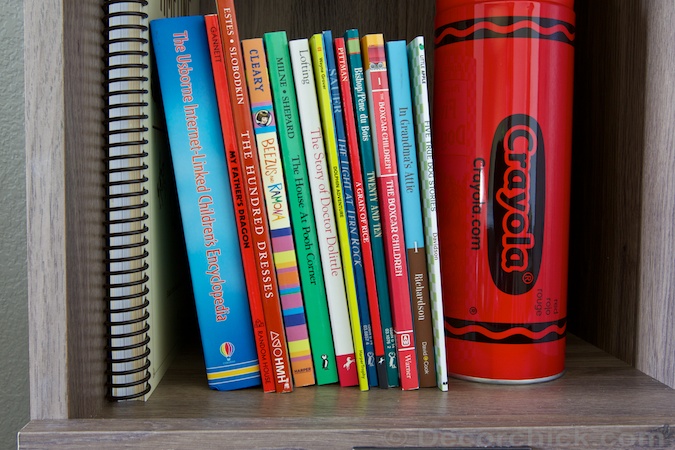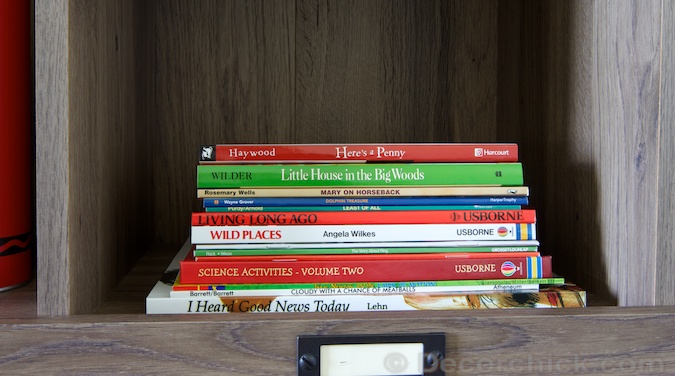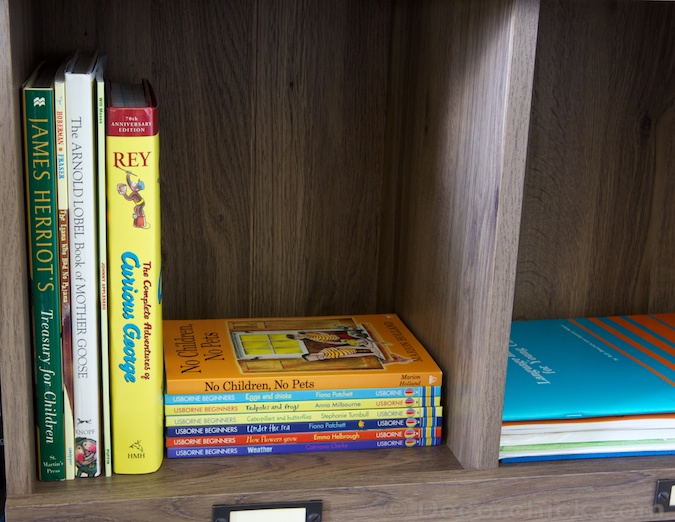 I really love having a good collection of books for the kiddos. I can't wait till Emma can start reading! And that I will be the one to TEACH her! And my husband too!
Now I'm not saying everything will stay where it is for now on these shelves forever or anything. I really won't know how to organize them for us until we start school and get in the groove.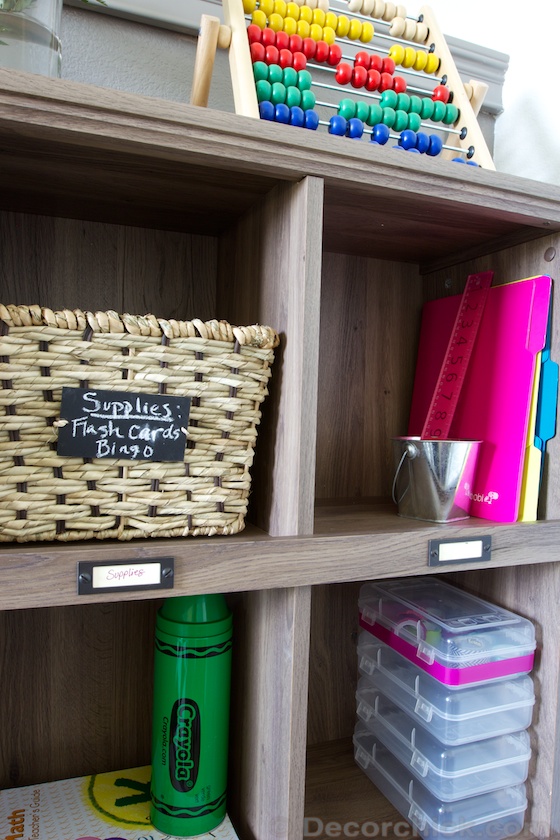 There's still plenty of room to grow which I love.
I haven't taken everything out of the math and science boxes, but I am sure they will live in wicker baskets soon just so I can get the boxes out of here.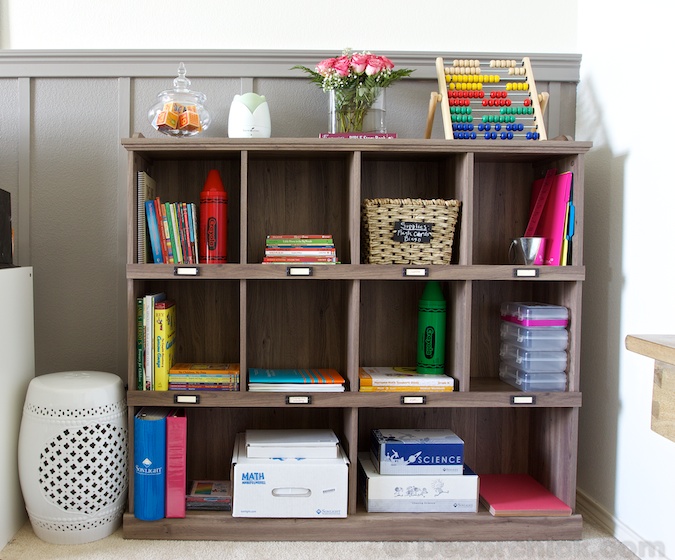 I also think I need a paper tray to separate the construction paper from regular paper and then the wide-ruled paper. Maybe one of those rolling carts we can put under the desk or something? Again, we will just see how it goes and make sure we survive the first week.
I was excited to score this little metal holder at Homegoods though, and since I had the little dollar tins already, I made a fun homeschool/art caddy.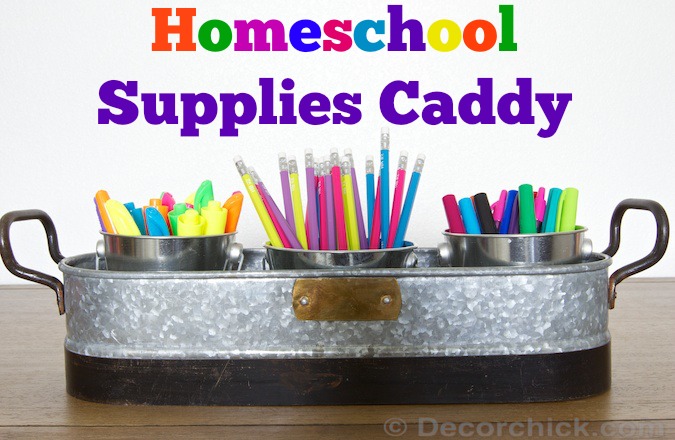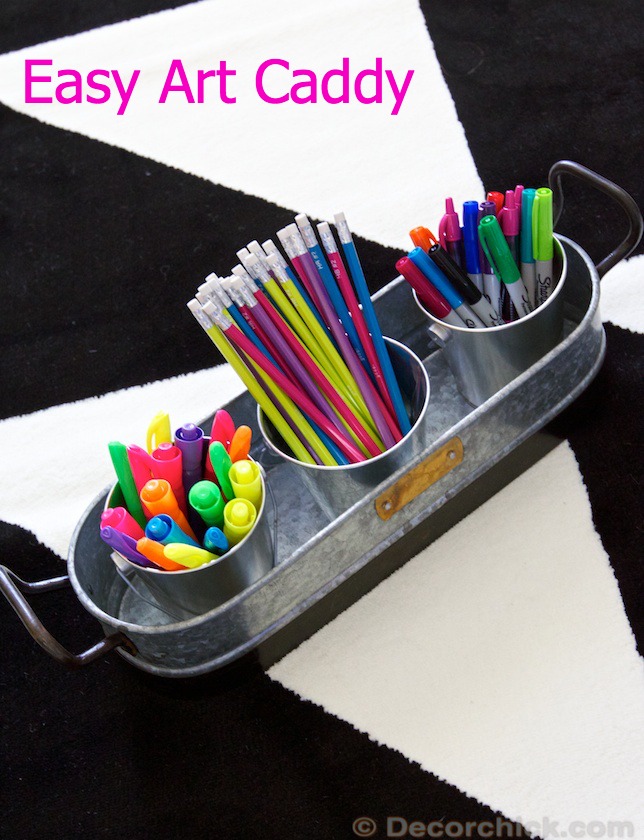 For now, I am keeping that on the desk we will work at, and I will keep colored pencils, crayons, scissors etc in the little clear plastic containers that are on the bookshelf.
I think that's about it for now. I finally feel like we can start working in here now, even though all of the decor isn't totally set up.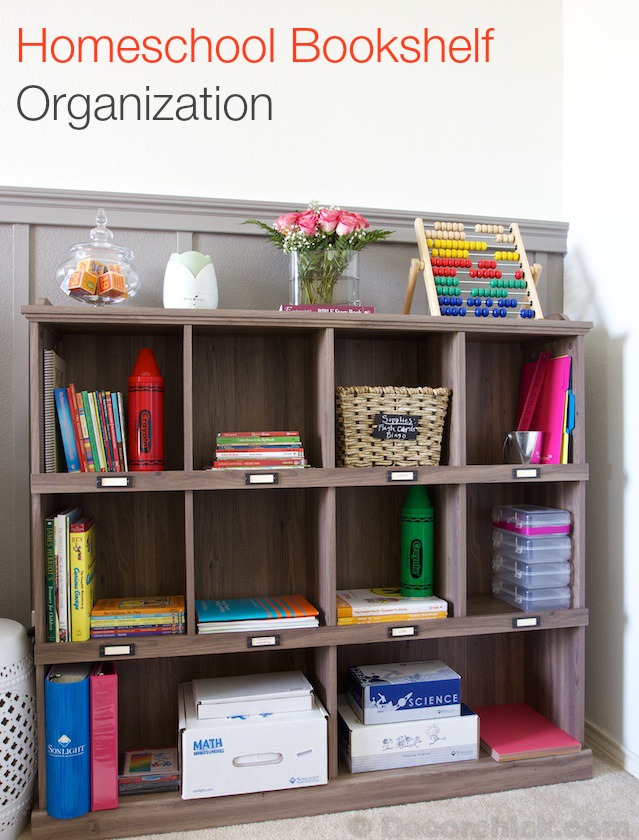 I know homeschool isn't about the decor, but, do you know who you're talking to here? ;)
For me, and I know everyone is different, but I felt like I just HAD to have a dedicated space to do the schooling. And the gameroom was the only option pretty much. Me and Emma would not function well if we were scattered about. She's just like me too and likes to have her things in order. So since we will spend a lot of time in there, I want it to be pretty, fun, and an inspiring place to be!
I can't wait to show you more. But first, I have to find us some chairs so we can sit at the desk!
Now, even if you don't homeschool, this still is a great bookcase for your home. I could think of tons of places I could use another one of these!
I'd still love to hear how you all organize your schooling. I'm still wondering how many extra binders I'll need and what I'll use them for? And I'm also trying to talk myself into going back to the store to get more pretty school supplies. Now that part was FUN!
xxoo,
Decorchick!®