Happy Friday everyone! One of my most favorite Etsy shops in the world, Knitty Bitties has kicked off her yearly Handmade Holiday promotions in her shop! This is such a great event because you are able to buy some of her most popular items in bulk, at a discount. And you get to choose your own fabrics!  I have several of her items.  Too many to count actually.
This is the deal going on this week or until is sells out…
And this is next week's promo which will start on Monday.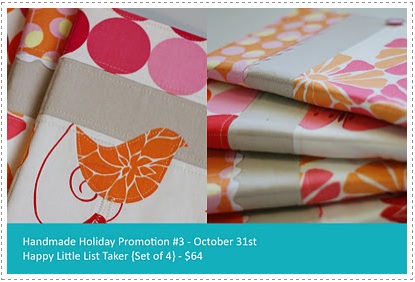 Both items are great!  I use the snap wallets for my business cards and they are perfect.  And I always get complimented on it when I pull it out.  It was a hit at Blissdom too!  And those list takers are just adorable–I'm quite fond of mine and it's always on my office desk.  :) You also can read more about the Handmade Holiday promotions over on this post Andrea wrote.
These would make the perfect Christmas gifts and stocking stuffers, and you can have several gifts knocked out at once since you'll be buying a small bundle.  My kind of shopping. :)
You can visit Andrea's Etsy shop here, and also her blog where she has fabulous tutorials and even giveaways!  She's one talented gal that's for sure, and I'm her biggest fan. :)
xxoo,
Decorchick!