Happy Friday friends! What an AWESOME giveaway I have for you all today. I have wanted a paint sprayer for FOREVER now, and I'm so excited I have one now thanks to Graco! I haven't been able to put her to use yet but I will soon don't you worry. I can think of 2 projects that a sprayer would be perfect for so yay! And the kind folks from Graco want to give one of their TrueCoat Plus II paint sprayers to one of you! Yeehaw!!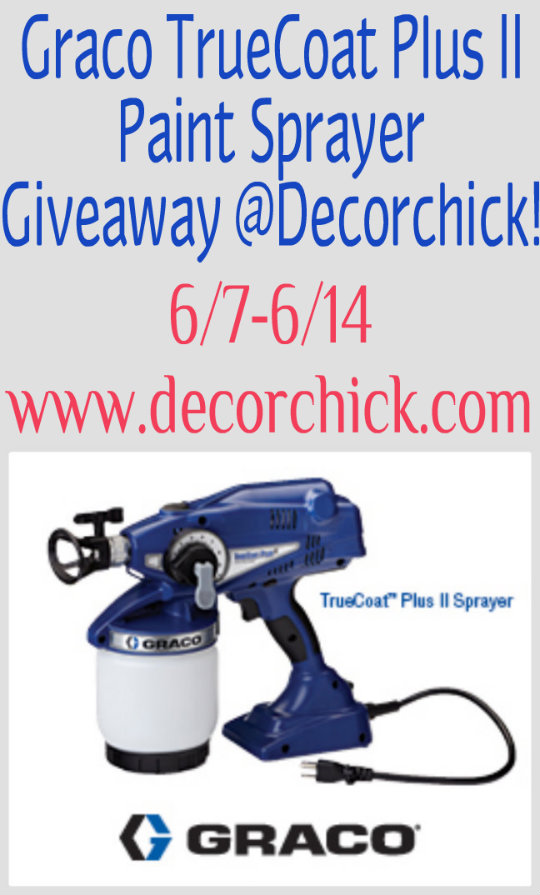 From what I hear this sprayer works great. And cleanup is supposed to be easy and great too. Did you know applying paint with a paint sprayer is up to 10X faster than brushing and up to 4X faster than rolling?!
Another bonus to using a sprayer is the professional smooth finish you will get. Have a cabinet or furniture painting project coming up? This would be perfect. And save you LOTS of time.
Here are a few key points about the Graco TrueCoat Plus II:
This particular sprayer is for smaller projects that require 1-2 gallons
Sprays a variety of materials such as stain, acrylic, enamels, oil-based primers, and latex paints
No thinning required-Simply pour your material into the cup
10X faster than brushing
Available at your nearest home improvement retailer
You can find out more about Graco's different sprayers at SaveYourWeekend.com, and there you can also sign up to get helpful DIY tips, deals and updates from Graco. Use the hashtag #SaveYourWeekend on social media sites to talk about any upcoming projects and ideas or questions you may have too. Wouldn't you like to save your weekends by cutting your project time by more than half? I know I would!
If you'd like to enter the giveaway for a chance to win the Graco TrueCoat Plus II Paint Sprayer, just follow the directions on the Rafflecopter widget below. 
Good luck everyone!
a Rafflecopter giveaway

This giveaway is sponsored by Graco and all thoughts and opinions are always my own.