Yes I made up that name, Gameschool Room. At least I think I did so if I'm wrong don't tell me. Since this room has always been the game room, bonus room, and now half of it functions as a homeschool room, Gameschool just makes sense. :)
This room has been a long work in progress. It sat the same for a few years, probably 3 now. I just didn't know what to do with it. Probably because back then I didn't have plans to homeschool, so maybe God left me with an unclear vision of that space on purpose. You know, to save me from having to do yet another makeover when we actually did decide to homeschool this year!
Ok enough.
So we got a new sofa! And a new ottoman!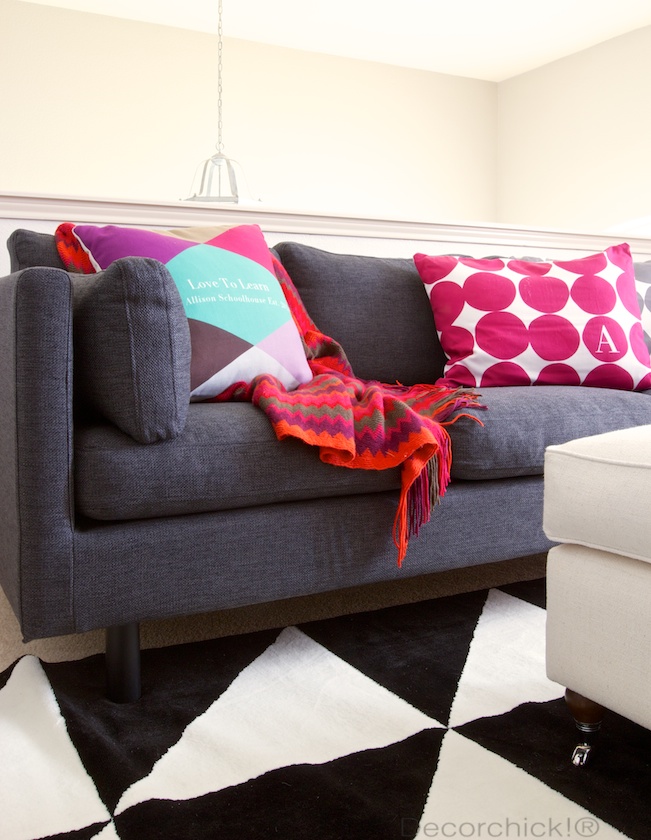 I'm going for a fun look in here with lots of bright colors like pinks and greys, so a modern sofa (something a little out of my comfort zone), goes perfect in here!
This particular sofa is from Bryght and is the Nova Bard Grey Sofa. It is a great price and I'm super happy with it. The description on the site about this sofa is:
The Nova collection characterizes a Danish design that elegantly unifies modern minimalist lines with functionality.
All of Bryght's items come directly from the source (the factories), eliminating the importers, distributors, wholesalers or retailers, which allows us to get the great prices on high design and high quality pieces that they offer.
I love the charcoal grey color of this sofa too.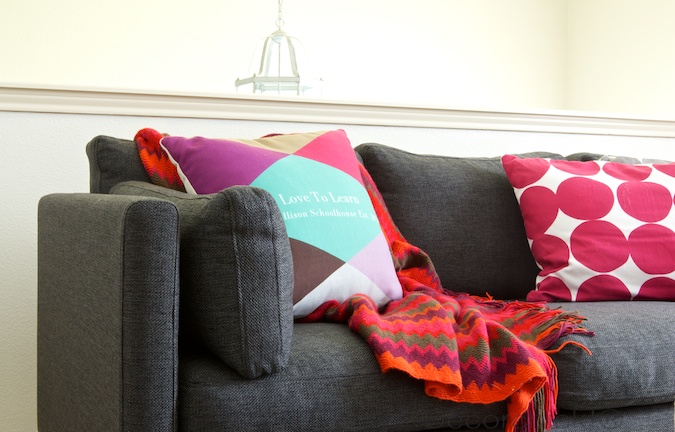 The clean lines and simple structure of the sofa I really like. It is more of a firmer sofa than I am used to, but it's still comfortable and great to read our school books on and lounge.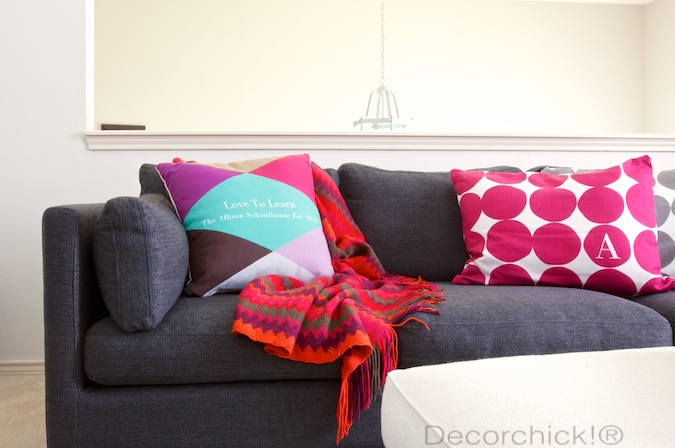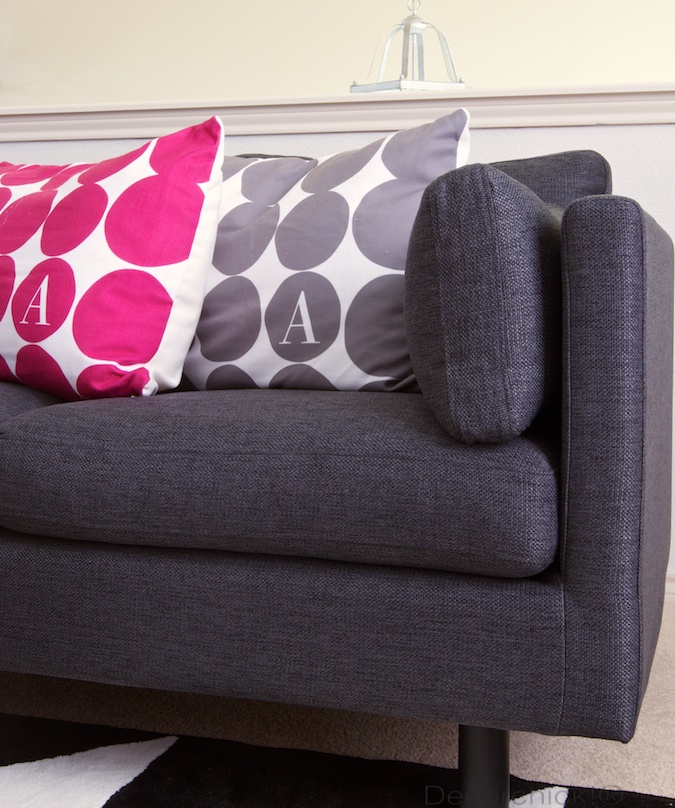 To off-set the modern sofa a bit, I chose a more traditional type ottoman which I LOVE. My favorite part is probably the awesome castor wheels. :)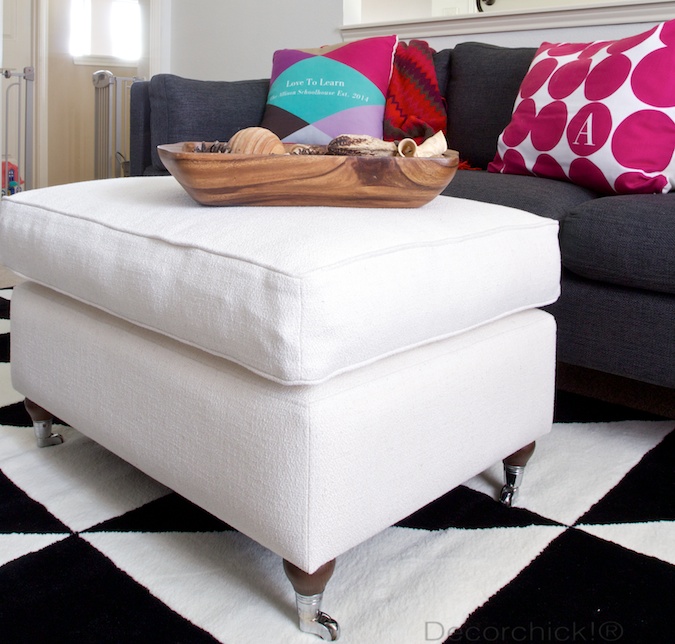 This is also from Bryght and is their Edward White Ottoman. Love love LOVE it! And again, can't beat the price.
One thing that's cool about this ottoman is that the top cushion is not fixed. So if you would rather have a floor cushion or something instead, you can just take this off easily. It does not slide around though if you are using it as is, which would bug me if it did.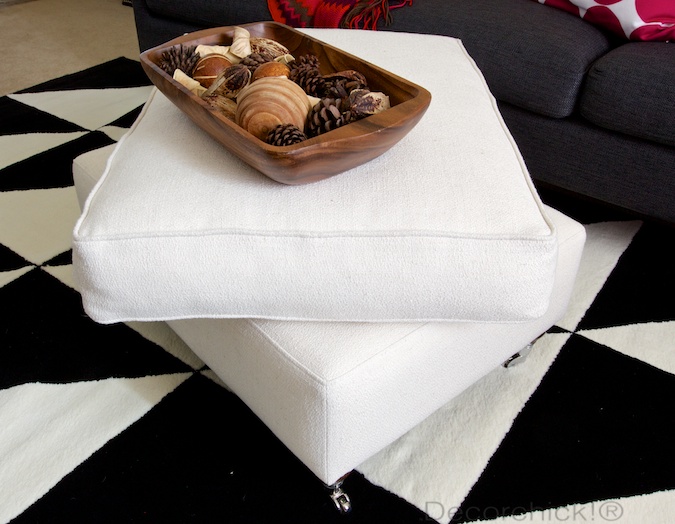 And then just being able to roll it around wherever easily, is SO convenient. We move it around all the time while we are doing school.
Here are a few more shots of this room and the new furniture.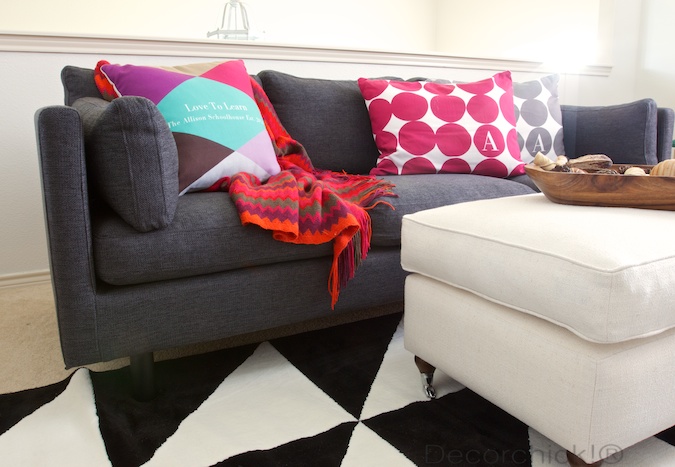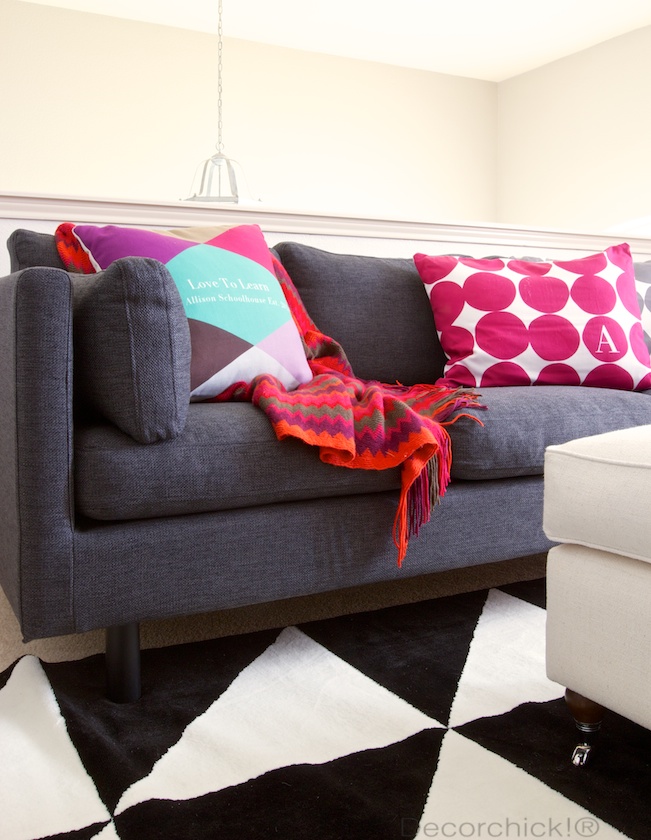 I'm so thrilled with how this room is coming. I have more to show you soon, and I promise we will have a full reveal before Christmas! I don't have a problem taking my time in doing a full room makeover now. I want to be sure I choose pieces and decorate with things we will love for a long time. It's all about decorating with a purpose, not on who has the quickest room reveal. Plus, it involves hours of time and money!
Be sure and check out Bryght if you're in the market for sleek new furniture pieces! They delivered via a freight company and it went great, but just know they can have longer shipping times sometimes, so they can offer the good discounts and cheap shipping. It's well worth the wait!
Have you ever shopped at Bryght before? What did you think?!
xxoo,
Decorchick!®