This will be a bit of a pity party post, sorry.  I'm discouraged about our dining room.  And I'll go ahead and tell you that we have turned it into an office, so there, the secret is out.  :)
I REALLY wanted gray, as that is what I am loving at the moment.  But will I still love it many more moments down the road?  I can't say that for sure since I tend to like MANY styles and colors all year long.  Did I fall prey into the gray trend?  I'm still trying to figure that out.  I just really wanted to try something different and get away from the golds, reds, greens, and browns.  I just wanted the office to be different.  Somewhat traditional, and a little contemporary.  And I think that look has been achieved so far, but not sure if it goes with everything else. Does it really need to "flow?"  Can't I just have a crayola box if I want to? :)
Y'all have seen the color of our downstairs…that goldy-tan color.  Does gray go with that?  It's supposed to, I thought.  But for whatever reason, the gray I chose still looks slightly blue to me.  Only sometimes though.  Am I imagining it?  Do I need to repaint? Did I pick the wrong gray, again?  Arghh!!
I bought this rug yesterday, just the bigger version of the one shown in the picture…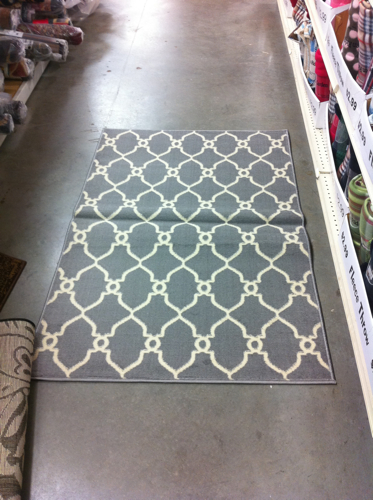 I love that rug.  It's so close to the quatrefoil one I wanted from Ballard's, and it's even gray.  I liked it in the office, I think.
Okay, so enough, tell me what you think about gray matching with tans, browns, and golds.  I swear if y'all tell me I have to repaint, I will have to hold a paint party and pray that 1 person shows up because I am so sick of painting this room!!  :)
In case you are new to my blog(thank you!), here is a snippet of the gray color I painted in the new office…
And here is the color of most of our downstairs…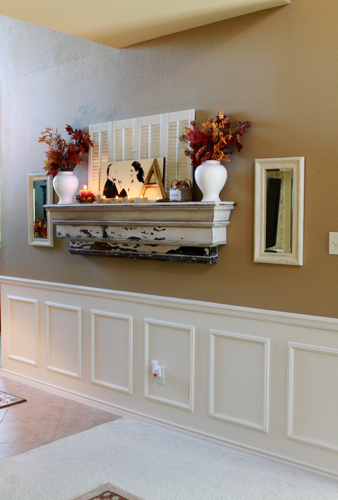 And the office is to the left of that big wall, right when you walk in the front door.  And that color in the picture above looks a little darker than what it actually is in real life.
Even though I have a home decor blog, that doesn't make me a designer or an expert.  Never will I claim to be.  I'm just your average joe who enjoys decorating, and I'm not afraid to ask for help. Sooo…help!!
Thank you! :)
Please visit these lovely sponsors too. :)
Altar'd – How to paint furniture guide
xxoo,
Decorchick!