So I'm having a lot of fun with my Stitch Fix's each month, if you couldn't tell. If I like something, I'm going to write about it. :) This fix was definitely a keeper for ALL of the items!! And since it has been requested to see the items actually on me, I obliged and did that for you this month. No I'm not a fashion blogger and I feel awkward taking selfies of me in my outfits, but hey, I have to admit it does help to see the items on! Plus, it makes it easier for you to pin any items you may want to your boards for your stylists to see.
And one of the main reasons I haven't taken photos of me in the items yet is because we've never had a full-length mirror! But I do now thanks to Homegoods! :) Maybe one day I can get my husband to do the photo shoot instead of me holding the very heavy camera, but we're taking baby steps. :)
So here ya go. These are all of the items I received.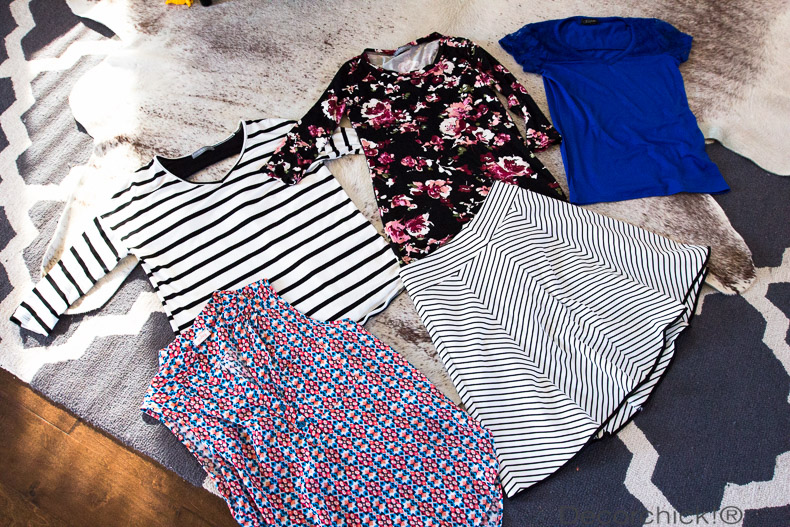 Looks good so far right?
I honestly wasn't too thrilled to receive another cobalt blue top–seems I always get that color of tops in my fixes. But, the shirt has really grown on me and I can wear it with so many things!
So let's get to the fashion show.
First up, is my favorite outfit. The Loveappella Celso Mesh Detail Knit top, and the Pixley Triste Swing Skirt.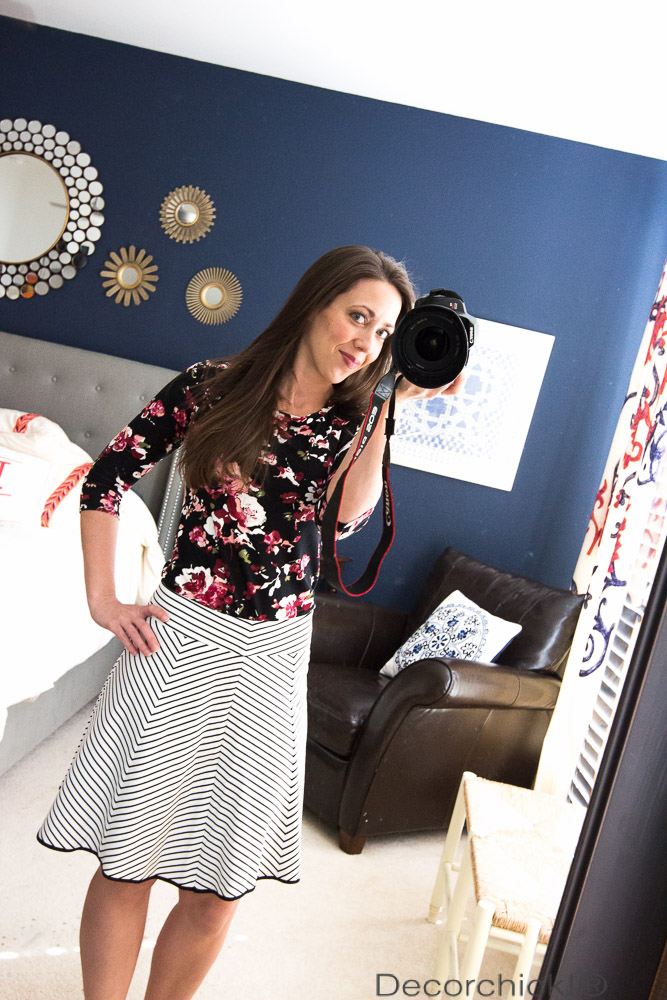 Full shot with shoes, even though these aren't the right shoes for the outfit. ;)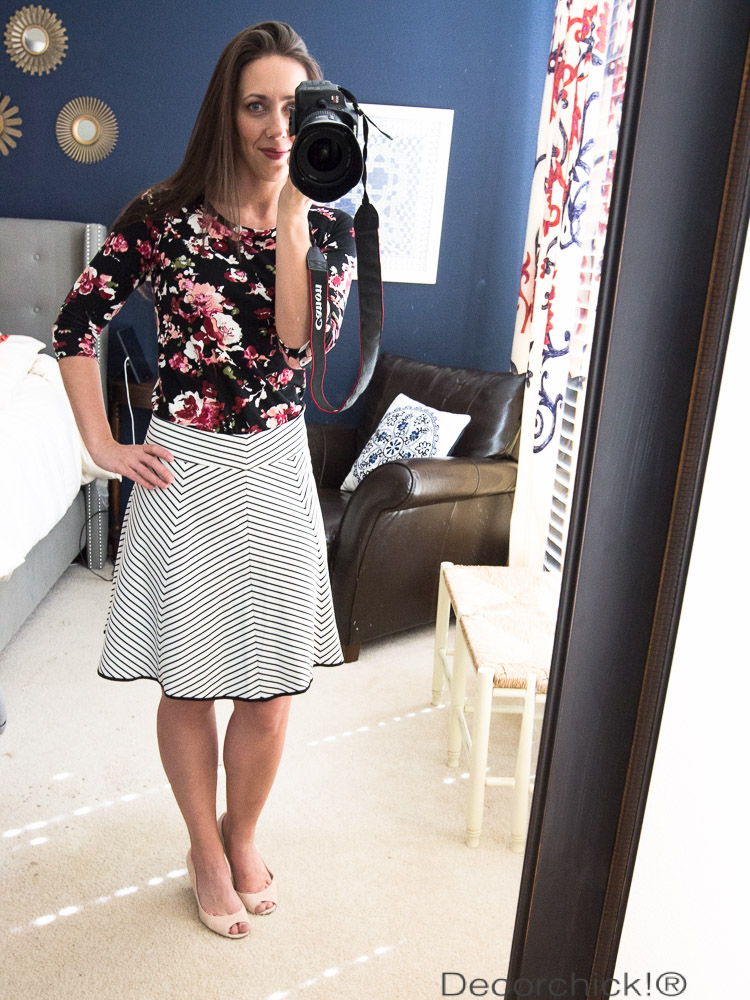 And close-up of both.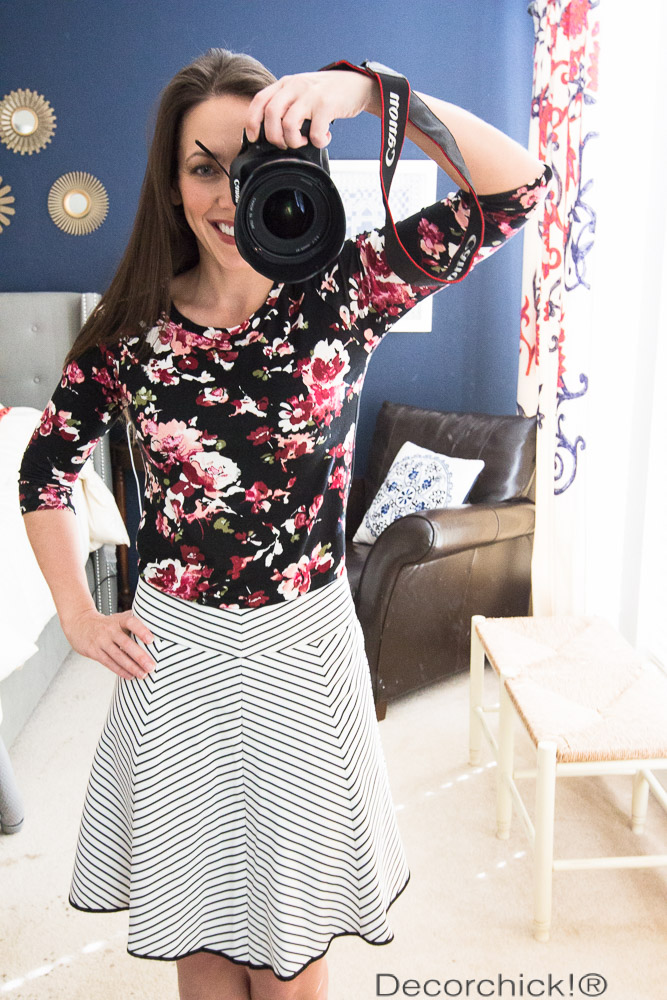 This is really my favorite outfit for many reasons, but I LOVE florals, and I love stripes. Put them together and it's like fashion heaven. I even loved the skirt so much, I had to check with them and see if they could exchange the size small they sent me for a medium, because the small was a bit snug and too short for my taste, and they had a medium available and sent to me right away! Love their customer service.
You can even ditch the heels and dress this down a little, so I put on my Tieks so you could see what a flat would look like also.
Next up is the Colette Brinly V-neck Lake Yoke Knit Top.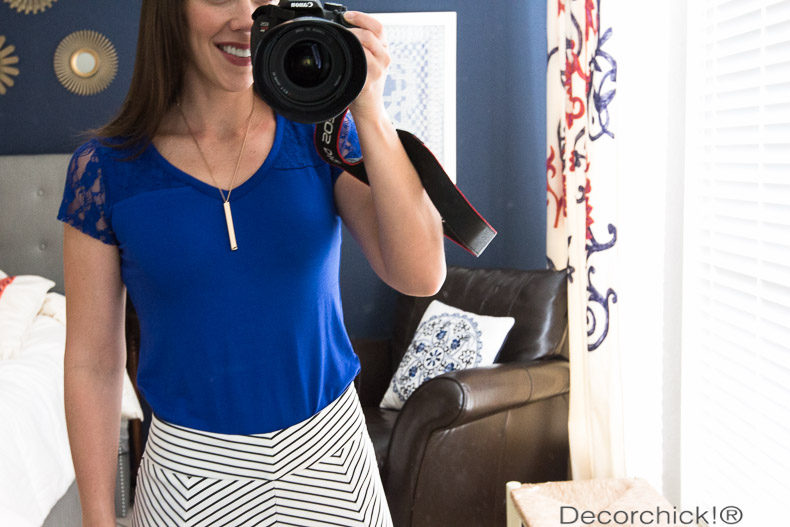 It's a nice fitted shirt and of course a pretty shade of blue! And it will go with many things so I paired it with the skirt again and love this look also.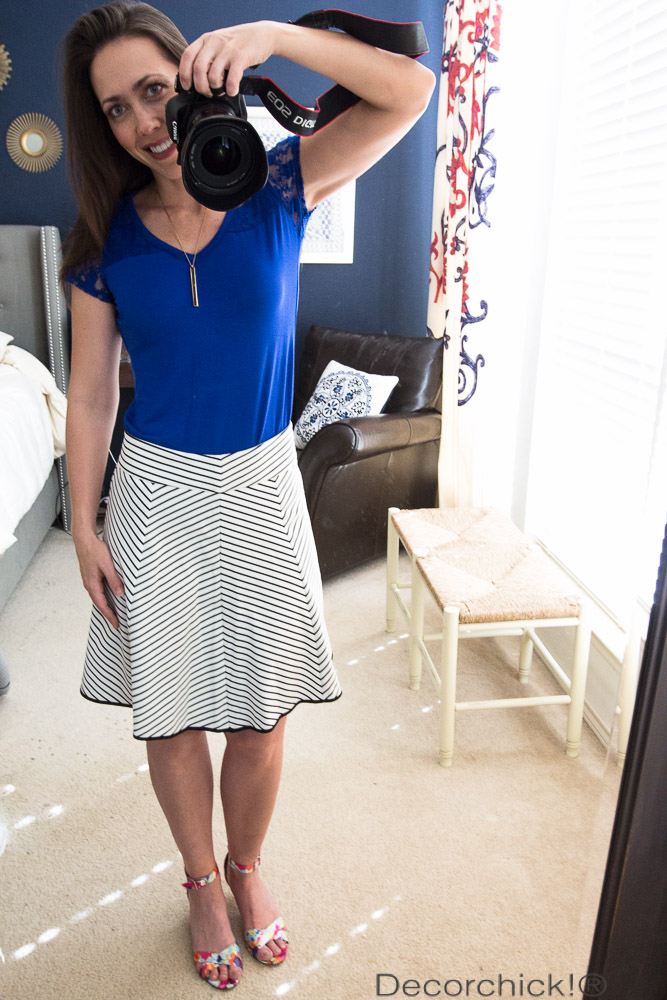 Now let's talk about the black and white stripe shirt which is the Loveappella Dolli Mesh Detail Knit Top.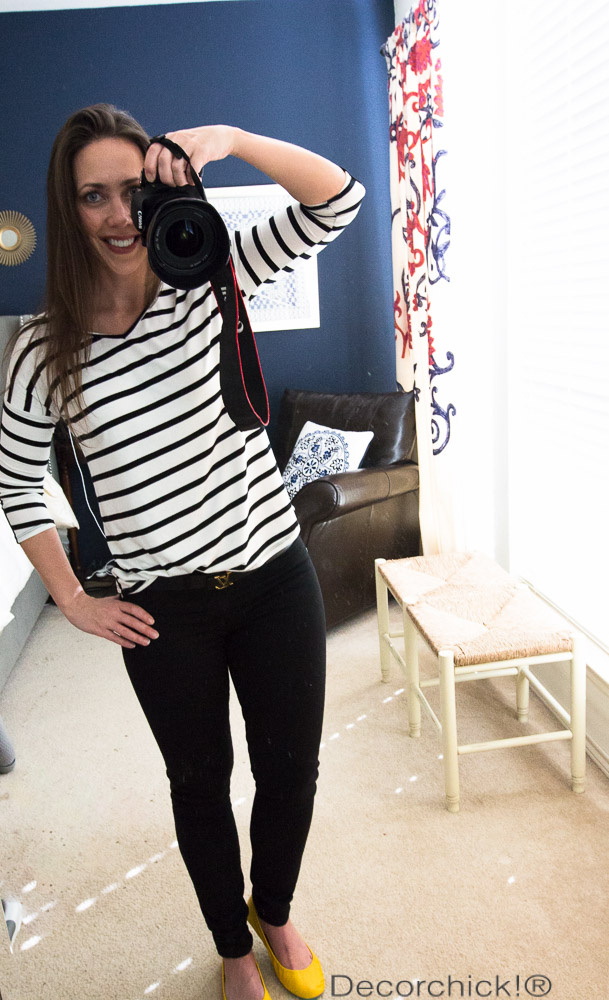 I really like this shirt, but it would be too short on me if I didn't do the front tuck (long torso probs), so keep that in mind if you wanted to wear this just hanging out. I do the front or side tuck on most of my tops anyway, so this definitely works for me. And if you're wondering, those are my black Henry & Belle skinnies that I received in my very first fix that I love! And yep, my mustard Tieks. :)
And, the back of the top is super cute.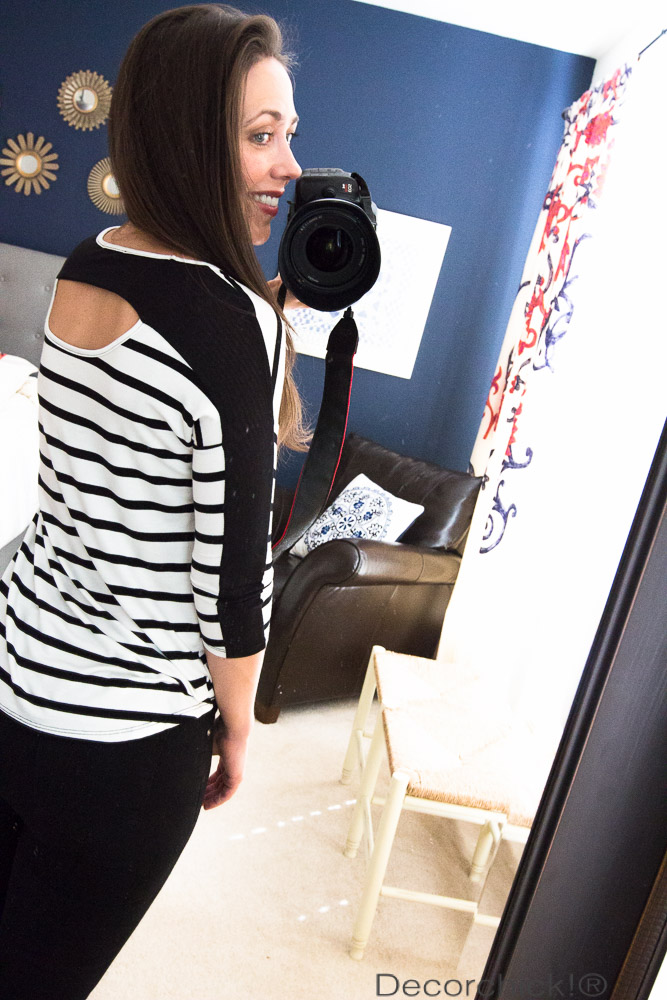 That black stripe you see going across the back and down the arms is what's actually the mesh, so it's a fun little added detail!
Lastly, is this super casual and cute Pixley Mori Henley Top.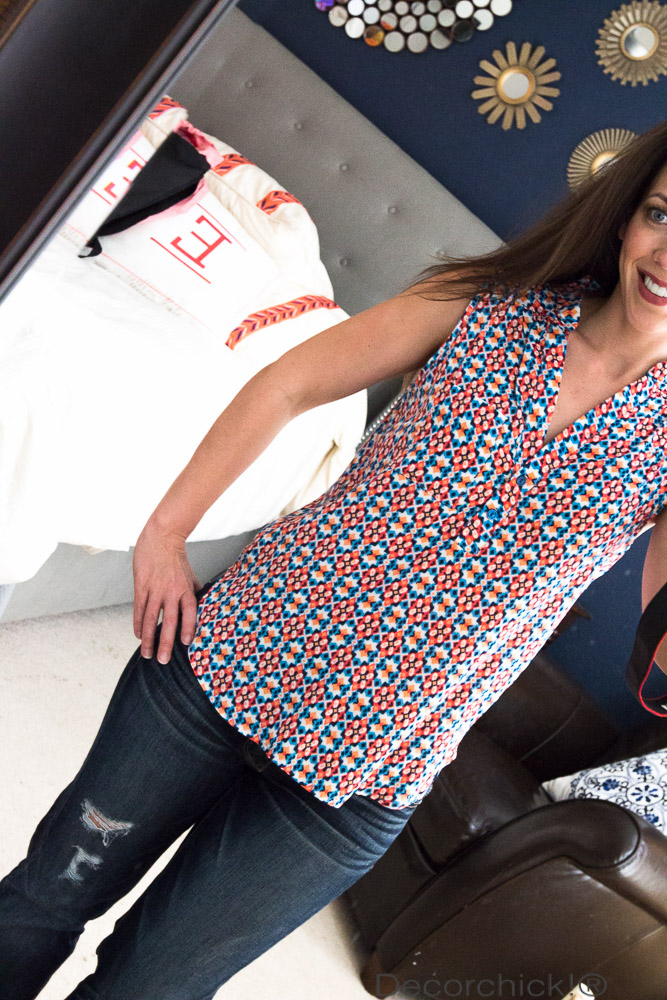 This top is definitely me, and I've worn it several times already!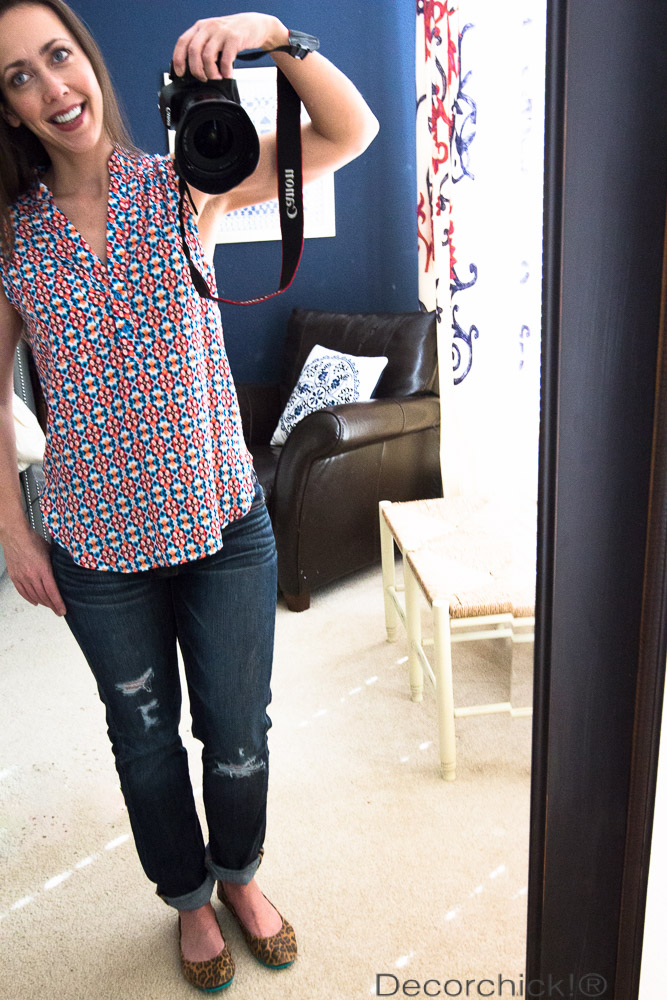 Would be cute paired with a jean jacket or cardigan also. Leopard Tieks shown there. I tell ya these are staples and I live in these!! Those jeans I also live in and they are from American Eagle, not Stitch Fix.
So that was my 6th fix and my first fashion show y'all! :) The price point on this fix I was super happy with too. Everything with the 25% discount came in right under $200. I think that's a great price for 5 good quality items. Everything I received is a size small for reference, except for the skirt which is a medium.
There have been times I haven't kept everything, but if I like most items in the fix but not crazy about 1 or 2 items, I will sell them on the B/S/T groups on Facebook so I can still receive the 25% discount. It's definitely worth it for that!
Let me know what you all think, and don't forget you can pin some of these outfits if you like them so maybe your stylist can hunt them down for your next fix! Sherri R. is my stylist if you want to request her. She's great!
If you are ready to try it out and have a stylist send you clothes each month too, you can do it here. You can also change the frequency of your fixes also, so you don't have to receive one each month if you don't want to! I can't wait to receive my next one!!
xxoo,
Decorchick!®