Remember last week when I talked about decorating with large vases and accessories? Those large vases really make a statement, and in that post I mentioned that I had just gotten one. I'd call it my first big statement piece as far as accessories go. But anyway, I did some simple Fall decorating and created a little vignette on our entryway table/dresser using said new large vase, and here she is.
Yowsa! Isn't it huge?? I just love it though.
I was challenged to go shopping (I know such an awful gig I have) on Chippmunk's savings search engine site using their coupons from great stores we all know and love, and then use those steals that I found to create a little home decor project. I decided to do a simple Fall vignette because well, I love Fall as you all have heard me say a thousand times now. :) I saw that they had Pottery Barn coupons on their site, so my eyes looked no further and I went to town.
I ordered the big mercury glass vase from PB on sale for $79, and the branch of leaves also from Pottery Barn for $49.50. I used a 10% off coupon I found on Chippmunk, and I also received free shipping so I was happy with my deals! I love that the big vase can be used all year round too, which was important to me in searching for something to buy.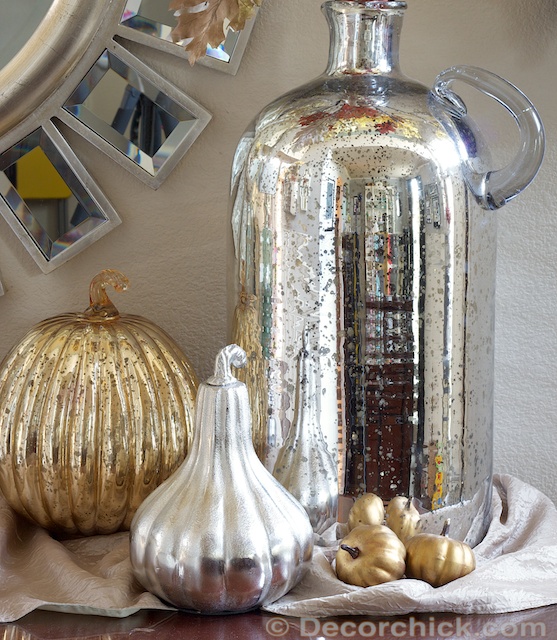 I put out a few of my rub 'n buff metallic pumpkins from last year, and also a few pumpkins and gourds I found at Homegoods. Yep, I'm still loving all things shiny and gold. :)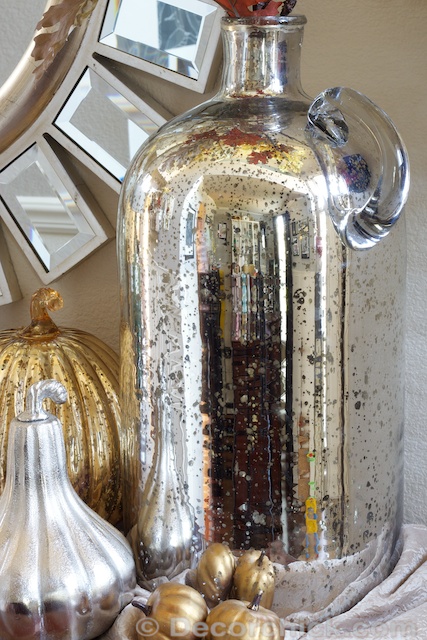 And another full shot of the vignette.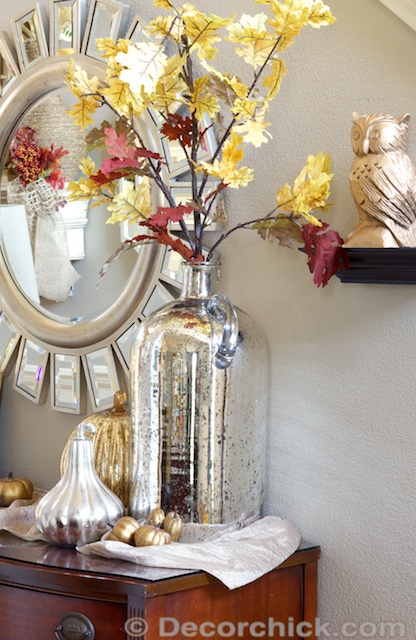 The leaves on the branch are so pretty and realistic looking. And for anyone wondering, it is just one massive stem that's very long, and I had to bend it to fit in here. And I had to use all of my body weight to bend it. No lie. It's a strong little thing. It came in a super long box, and the vase came in a huge box. Never underestimate the scale of things at Pottery Barn. :)
But don't you think the large vase makes a big difference?  Now I'll probably be a vase snob and think everything is wimpy in comparison. :-)
Now would you like to share your inspiration with other people and show them what kind of steals you got? Well Chippmunk has an expert shopper gallery where you can upload photos of your own steals and deals and they even have a fun contest running right now. From now until September 18, 5 winners will each win a $100 gift card to the Chippmunk store of their choice based on votes. Have a pretty home decor project or great fashion find to share that you think you got a good deal on? Well upload it on their expert shopper page so you can be in the running for one of the gift cards. Woohoo!
Are you a believer in big vases now like me?
And another question…are you ready for Fall yet? :) Also check out my friends Myra from My Blessed Life and Roeshel from DIY Showoff's steals they got from Chipmunk too. So pretty!
xxoo,
Decorchick!
Let's Connect!