Happy Friday friends! Today's post is an informative one, so don't skip it. Especially if you are already a Young Living member, because I am going to tell you all about essential rewards, a/k/a "ER" and explain it in an easy fashion since it seems to be a bit confusing in the beginning.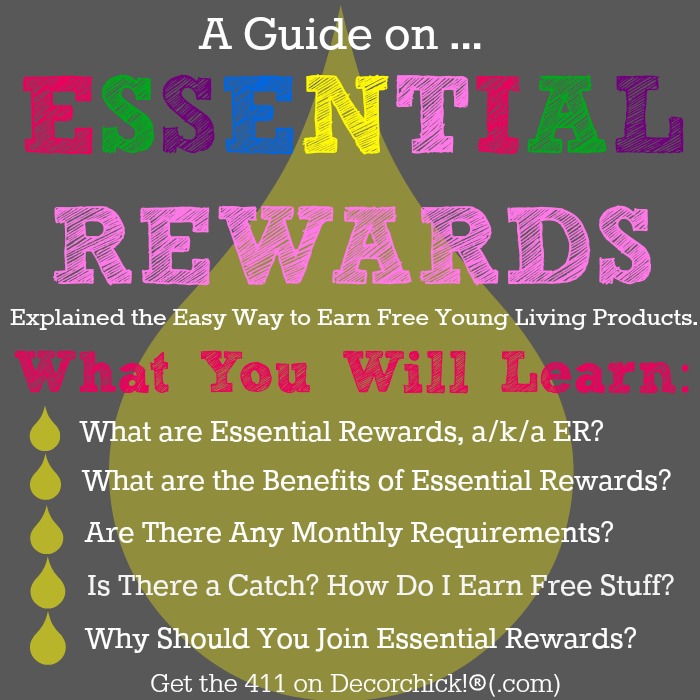 First of all…
WHAT ARE ESSENTIAL REWARDS:
Essential Rewards is Young Living's monthly auto-ship program. Oh no, you hear the word "auto-ship" and might freak out! But calm down, I assure you this is a GREAT word, which brings many benefits to you and your pocketbook, and your Young Living collection, which we will get to next.
WHAT ARE THE BENEFITS OF ESSENTIAL REWARDS:
Really y'all, there are so many. By being on the Essential Rewards program, you EARN money back on each of your ER orders, to be used on future YL orders. How great is that? Here is a breakdown of what you will earn, and when you will earn it.
Months 1-6 on Essential Rewards you will earn 10% back on your total ER order.
Months 7-12 on Essential Rewards you will earn 15% back on your total ER order.
Months 13-infinity on Essential Rewards you will earn 20% back on your total ER order.
Are you seeing the benefits here yet guys? That is why it is good to go ahead and enroll in Essential Rewards EARLY on so you immediately can start earning your points back and so that the clock starts ticking so you can start receiving back 20% in no time. I am already receiving 20% back on my orders, and it helps tremendously!
You also receive reduced shipping on the Essential Rewards program and get priority on items when stock becomes low. So you have a good chance of receiving those items first before they run out.
Also, Young Living frequently has extra promotions throughout each month, that allows you to earn EXTRA back, like 10%, or an extra $25 back in your ER account (if your order PV meets the 190pv, 250pv, or 300pv requirements).
WHAT ARE THE MONTHLY REQUIREMENTS:
The Essential Rewards program is by far the most relaxed, customizable, and generous auto-ship program around. The only requirement is to spend 50pv (equivalent to about $50) monthly. And that is very easy to do. ;) A few important things to make note of:
You can change items in your essential rewards order EACH month. You DO NOT have to order the same thing each month. You can order whatever you want!
You can change your ER date monthly, as many times as you'd like. So for instance if you had an ER order come out on the 10th of one month, you

do not

have to have it come out on the 10th of the following month. You can change it to be sooner, or later, or whatever you want. It really doesn't matter.
You can even skip one month out of a calendar year and jump right back in the following month and still earn the same amount back as you were.
You can change out the items in your ER cart up until midnight (mountain time) on the day of your ER order.
Really, it's a no-brainer.
IS THERE A CATCH: 
NO, there is absolutely no catch. You can cancel essential rewards at any time, no questions asked.
HOW DO YOU EARN FREE STUFF:
Well that's simple. Above when I talked about the benefits of ER and you earning money, or points back in your ER account, you can take that money and cash it out for FREE products! Some people like to save up their points and have one really large free order, and some people use their points as they accumulate. It's all up to you how you want to spend them. And again, YOU choose the items you want to get for free. The PV does need to have an equivalent cash value when using your ER points. All you pay for is the shipping when you place an Essential Rewards order.
Here is what my ER balance is right now. I just cashed out some points and still have this many left!

WHY SHOULD YOU JOIN ESSENTIAL REWARDS
Ummm, if the above was not clear enough, I suggest going back to re-read it. ;) I would like to add though, that when you initially sign up for Young Living with your Premium Starter Kit and wholesale account, you have the option of signing up for Essential Rewards that same day on the sign up page. That is where people get confused. But let me settle that confusion now.
The only way to join essential rewards at the same time you buy your premium starter kit, is to order one of the essential rewards kits, which are shown to you on the sign up page. If there is a kit you are interested in and know you want to do ER immediately, then by all means go for it. Just know that you

do not

have to order that same kit again the next month. As I said above, you can order whatever items you want the next month.
Now, if you do not want to order one of the essential reward kits at the same time you sign up, that's totally fine! You can always just login to your account the next day, click the essential rewards tab, and sign up the next day (or whenever you want). If you do it that way, you

do not

have to buy one of the kits and can immediately just pick and choose whatever items you want.
I know that can be a little confusing, but I hope that helps explain it a bit better.
I have several members already on Essential Rewards and are really raking in the points! And if you aren't yet, just login to your account in virtual office, click the essential rewards tab on the left, and pick your date and products. It's really that easy.
Plus it's time to start stocking up on those Fall and Winter oils so why wouldn't you want to earn something back for ordering?
Also, don't forget that Young Living offers many more products than just oils. They have supplements, beauty items, personal care items like toothpaste, soap, shampoo, house cleaners etc. So think about replacing some of your store bought items for YL items which are great for YOU, and earn something back while you do! I use them all and truly love every single one.
And for fun, here is a pic of one of my latest essential reward orders.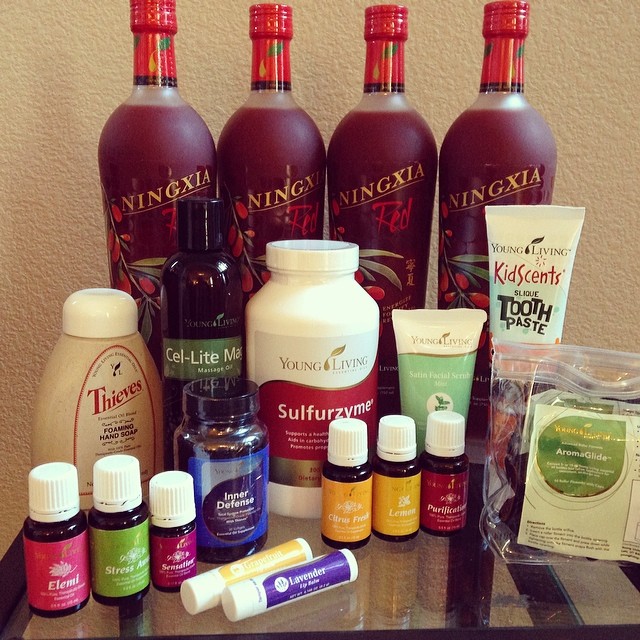 And you know what's amazing? I earned $70 back in my ER account for that order!! That order was a 306PV order (a little over $300), so I got 15% back + $25 in my ER account because of the 300pv promotion YL had that month. You really get the best bang for your buck doing one of the 3 tiered ER promos. That huge bottle of Sulfurzyme, and the 15ml bottles of Citrus Fresh, Lemon, and Purification were all FREE because of the promo. So that along with $70 back in my account? Yes, please. And I love every single product. Seriously.
I think that's about it guys. I know this was in-depth (and long), but I hope it was clear and confusion-free now about essential rewards! :)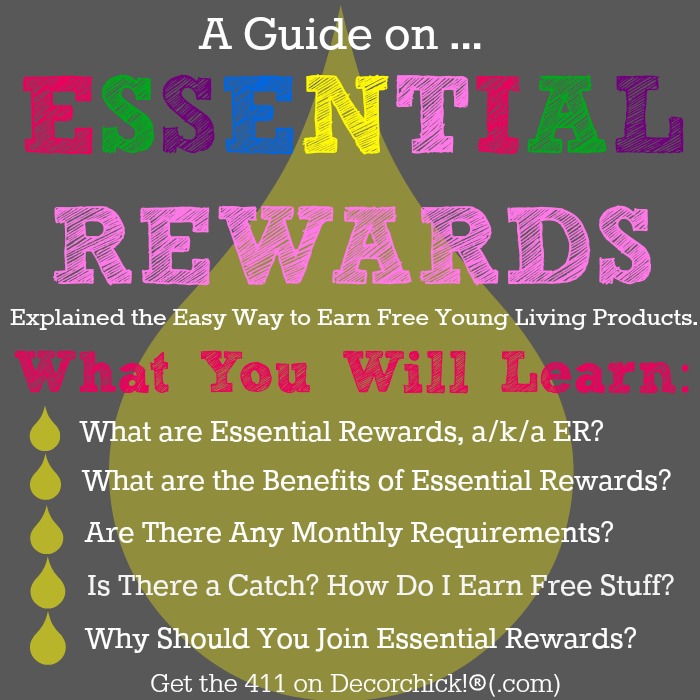 If you have any questions, or want to learn more about Young Living Essential Oils, please visit my Essential Oils page and ordering info is on there too.
xxoo,
Decorchick!