Oh the emotions…they can run wild and free can't they? And I mean that in the not-so-awesome way. ;) But isn't it great that we have the ability to help support our emotions naturally and healthily with essential oils? It's true. Essential oils aren't just to help promote your health and wellness…they can go much deeper than that on the emotional level as well. So here are my favorite essential oils for emotional support.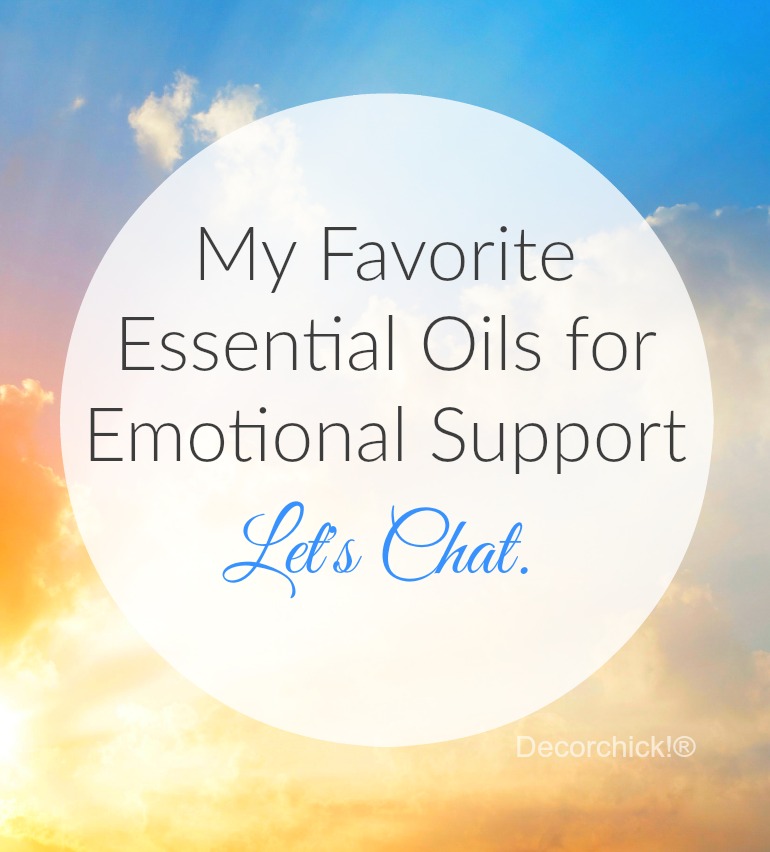 1.  JOY:  invites a sense of romance, bliss, and warmth when diffused. When worn as a fragrance, it invites togetherness. I apply this every day over my heart, and often wear in my diffuser necklace. My oldest daughter loves to wear this in her diffuser necklace also. And when we are having a tough day of homeschooling, I'll apply it directly on her and diffuse in the classroom. It's truly amazing how the attitude can change!
2. BERGAMOT: has a light citrusy scent, which can be both uplifting and relaxing when diffused. I added this into my daily application several months back, and love love love it. Can't live without it kind of love. If I need that calming feeling in the home, I often diffuse this with a citrus oil as well. Amazing.
3. HARMONY: is a blend of pure essential oils that contains scents to provide an uplifting aromatic experience. Another one in my daily routine, which smells divine.
4. SACRED MOUNTAIN: is a blend of Ylang Ylang and conifer oils that evokes the sense of sanctity found in nature and promotes feelings of strength, empowerment, grounding, and protection when diffused. Yep, I use it for all of those things.
5. FRANKINCENSE: has an earthy, uplifting aroma that's perfect for grounding and spiritual connectedness. Create a safe and comforting environment when you diffuse or inhale this empowering oil. There is just so much to say about this amazing oil. It's also great to help maintain radiant skin. Again, use Google to find out more about this incredible oil!
6. CITRUS FRESH: Combining Orange, Tangerine, Grapefruit, Lemon, and Mandarin oils with a hint of Spearmint, Citrus Fresh™ Essential Oil is a proprietary Young Living blend that offers an uplifting, refreshing aroma that you can diffuse to transform home, work, and classroom spaces. I use this all.the.time. I often will mix in the diffuser Citrus Fresh along with another oil. All of the citrus oils are fantastic!!
7. RELEASE: is a blend with a relaxing aroma that facilitates the ability to let go of anger and frustration. It also promotes harmony and balance when diffused. It's also amazing in a detox bath. Trust me.
8. STRESS AWAY: is the first product to contain the unique combination of Lime and Vanilla pure, therapeutic-grade essential oils. With an aroma that is the perfect blend of tropical and citrus, Stress Away is uniquely relaxing and comforting. The name says it all for this one.
9. WHITE ANGELICA: contains pure Melissa and Bergamot essential oils, promotes feelings of protection and security when diffused, and can be used to guard against negative energy. When you want to have a great day or you might be forced to deal with difficult people, don't forget this oil. ;)
10. DRAGON TIME: is designed to invite positive emotions for women, especially during their monthly cycle. This blend is recommended for both young and mature women. Again, seriously can't live without this one. I've even been using the Dragon Time shower gel, and love it! If your emotions are roaring those 1 or 2 weeks during the months, try this one.
Those are just some of MY favorite oils I use on a daily basis to help support the emotions. There are many more from Young Living that will help support the emotional level as well too. And woman are all emotional beings so we need something right?! And if you're a mom, well then, you just will love these even more. ;)
There are also some awesome resources out there if you google, on ways to help support your emotions too and I would highly encourage you to check them out. Oh the stories I could tell you…
It's a passion of mine to help you find other alternatives in supporting your health and wellness, and your emotions. I know our world was rocked when I first starting using oils for everything, and I hope they will do the same for you.
For any of you thinking of joining Young Living, I have a great bundle of freebies to send to you to help you get started with your new kit and wellness journey. I also love to schedule calls too if you'd like to chat more in depth and go over your kit once you receive it!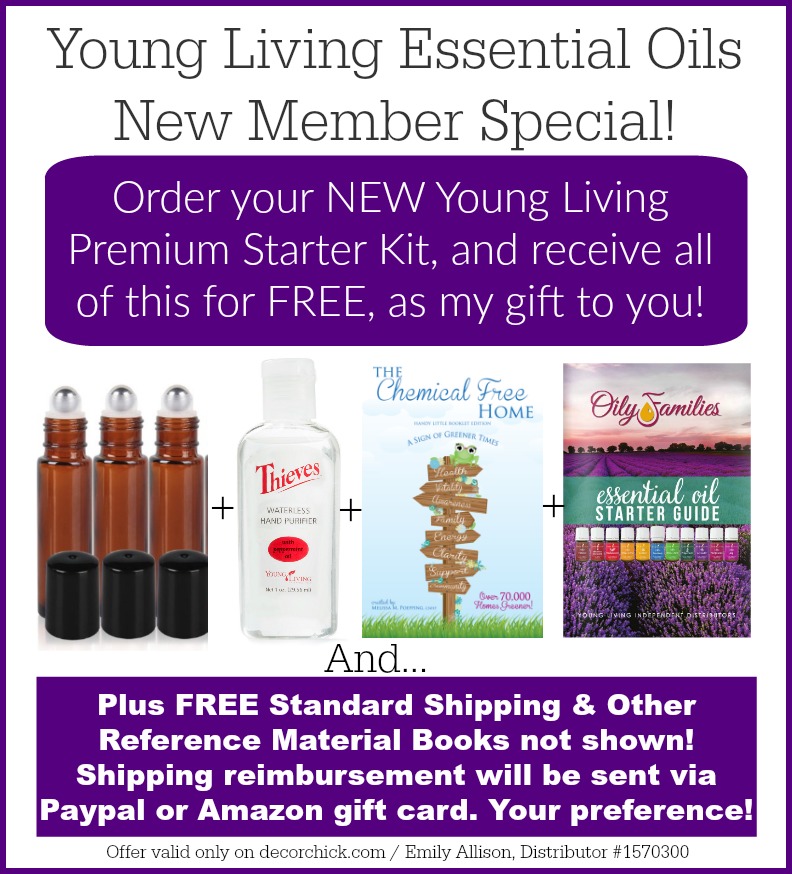 So if you're ready to take the plunge, Young Living. You can also visit my essential oils page for more info as well. I'd love to help you on this oily journey!
If you have any questions please don't hesitate to ask! I hope you all have a wonderful day! :)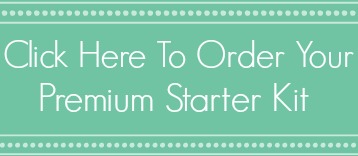 xxoo,
Decorchick!®