Have you seen these candle holders from Williams Sonoma before?  Aren't they pretty?  Way too pricey though.   Here is a knock off version that will cost you only $2 to make!
I first saw this idea from Get Your Martha On when she made her version here.  They looked so beautiful so I just had to try it.
The only thing I did differently was get the hurricanes at the dollar store instead of Walmart.  The ones at Walmart are bigger and look great, but I just wasn't up for waiting in line for 30 minutes fighting the crowd, so the Dollar Store it was!
First get your hurricanes and glass candlesticks.  Remember, get all of this from the dollar store.  Never underestimate the power of a dollar. :)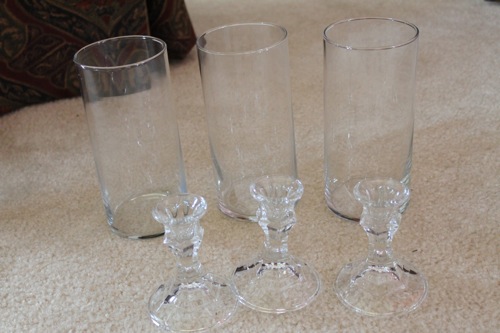 Then put some gorilla glue on the candlestick and stick to the bottom of hurricane.  You could use hot glue too, but it will eventually come off.  I've tried it before.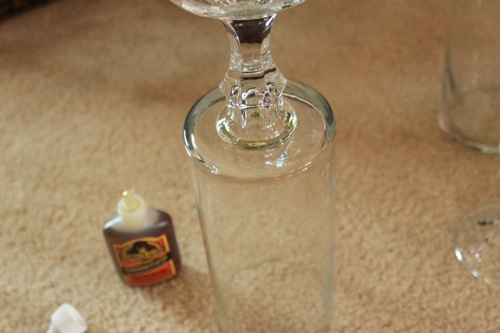 Then try and be patient and let the glue sit for a while.  It's heavy duty stuff.
While you are waiting, maybe you could catch up on reading a few good books.
Then you have this when it's all dry.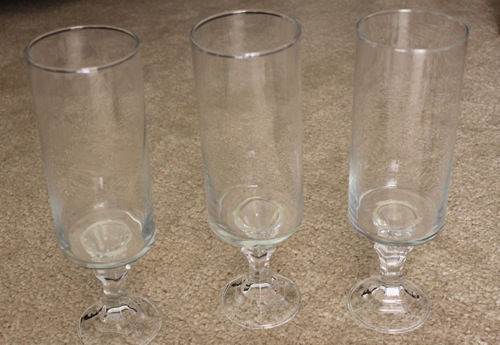 You like?
Then just fill them with whatever you want to use.  You can use any vase filler, rocks, candy, candles, anything.  If you use candles, I would suggest putting some sand or rocks on the bottom before you drop in the candle.  Trust me.
I decorated mine with dollar store rocks, sand, and jute.  I had the seashell and vase filler stuff already.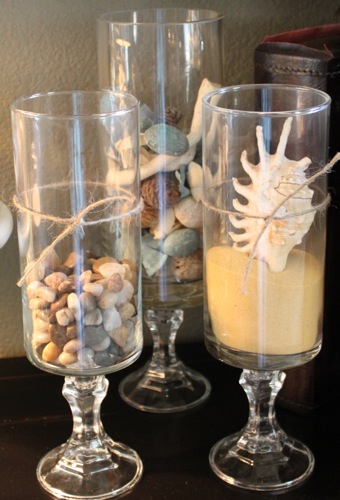 Here they are with some of my other glass things on my entry table.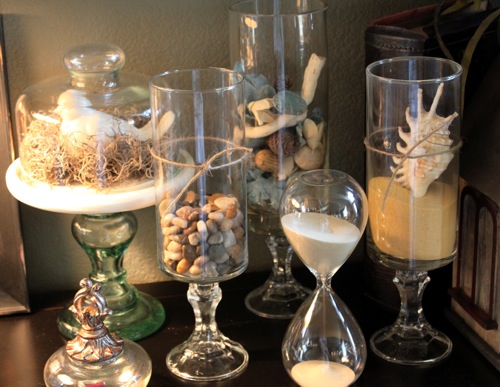 Love glass!!  And that is my cheese dome cloche I made that I have the hurricanes displayed by.  In case you missed that post you can read that here.
You can't beat the price of this project being $2.  I'll take that any day!
*Update – click here to see another version of the hurricanes with the flared glass that I love even more.
xxoo,
Decorchick!