Hey everyone, thank you so much for entering the giveaway from Cutting Edge Stencils.  Stenciling is so much fun and easy, and will transform any room in an instant.  I'm still working on mine, but decided to change rooms instead of doing it in our laundry room. So it's going to be a bit before I can show you all. Boo!
And now the winner is…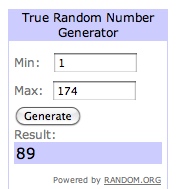 #89, so that is Teresa at Get Nestled In!  Hey, I know you!  I'll be contacting you in a bit. :)
Hope you all are having a great weekend everyone!
Thank you to my wonderful sponsors:
Altar'd – How to paint furniture guide, Altar'd – Decorative Finishes for Furniture, Savings Lifestyle, Olive Bungalow, Willow House, Silhouette, Lisa Leonard, The Rusted Chain, Red Letter Words, The Vintage Pearl, Simple Fit RediShade, Cutting Edge Stencils, Knitty Bitties, Donahue Wellness
xxoo,
Decorchick!