*This giveaway is now closed*
*PS – I'm guest posting over at A Brooklyn Limestone in Progress today, so hop on over and visit. :)*
Hi everyone, another great giveaway today from Cutting Edge Stencils. I showed you all the other day what I was loving from Cutting Edge in this post, so if you missed it go check it out.
And I also showed you the stencil that I chose to use, but like I said I can only show you a little snippet.  And the picture itself is bad because this part is under the staircase, so it's like a dark cave, sorry!  I wasn't able to fully complete the wall, and I can't show you a half done wall. :)  But anyway, I did it on 1 big wall in our laundry room, because that room is getting a facelift.
They sent me all of the necessary tools including their awesome level, the foam brush roller, and of course the stencil.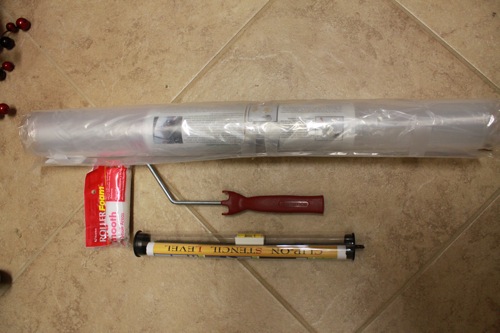 Their instructions were very clear and easy and before I knew it I had this on the wall.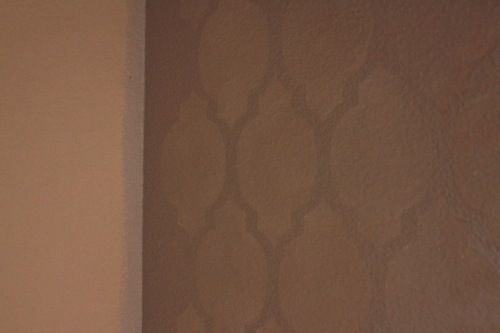 Again, sorry for the horrible picture quality.  I probably took about 437,777 pictures trying to get a decent one.
So once I have more time I am going to get it done! It doesn't take long at all actually, and my stencil was an allover wall stencil, so it covers a large amount of wall space.
Here are a few others that I love from Cutting Edge Stencils…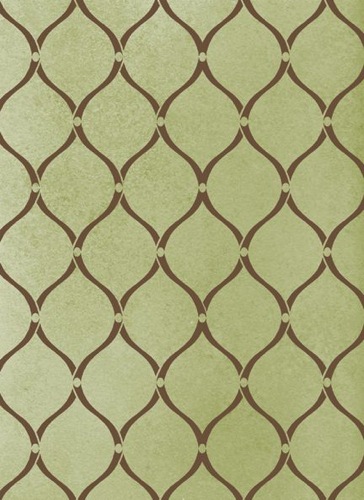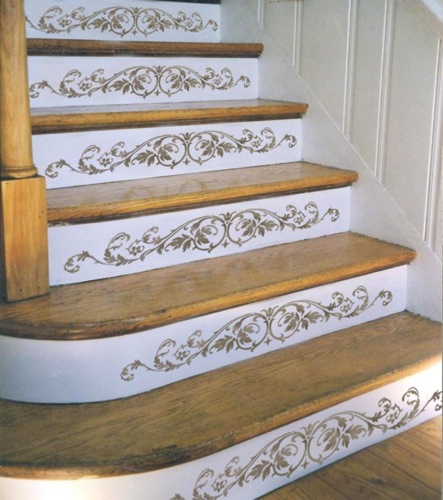 Don't you love those?  What a great idea to have a stencil for your stair risers!  I'm still dreaming of hardwood steps. :)
So Cutting Edge Stencils is giving away a $40 gift certificate to their store, plus free shipping!  Awesome right?  And $40 will get you most of their stencils, because they are extremely affordable.
Want a chance to win? Of course you do!
To enter: (please be a follower of my blog before entering, thank you so much!)
1. Leave a comment and tell us what stencil you would love to have from Cutting Edge Stencils;
As additional entries…
2. Like Cutting Edge Stencils on Facebook and come back here and leave a comment that you did;
3. Blog, tweet or Facebook about this giveaway and come back here and let me know you did.
That's it folks!  I'll run this giveaway through Saturday, December 4 and will announce the winner using Random.org. Good luck!
Also, today is the last day to enter the Silhouette giveaway, so don't forget to enter here.
*This giveaway is now closed*
xxoo,
Decorchick!