*This giveaway is now closed. Winner announced at bottom.*
If you have a kitchen, pantry, or any sort of food storage then you will love CanOrganizer.com. An affordable new way to organize your canned food! You can easily store, organize and rotate your canned food by using this simple and effective design that will maximize your cupboard space. Many different Organizers have been created to easily fit in your standard cupboard, pantry and food storage shelving.
The 11″ deep Cupboard Organizer is perfect for smaller spaces like your cupboard where you need to maximize space. This is ideal where a pantry or extra storage may not be available. You can simply use one Organizer or many depending on your needs. Fill up your cupboard so you can easily find what you're looking for!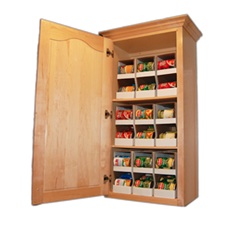 The 16″ deep Shelf Organizer is deeper so you can store even more cans!  Designed to fit nicely on your standard shelf so it is perfect for storage areas like your garage or storage room.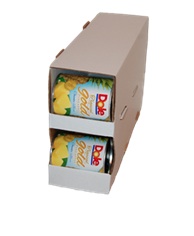 And finally the 22.5″ deep Pantry Organizer is the deepest of the bunch. This system is optimal for those deep pantries or storage racks where you have plenty of space. You will be amazed how many you can fit in the Organizer and well organized your food storage will be. Now you can hit those canned good sales and stock up for your family, saving money and having food on hand for whenever you need it.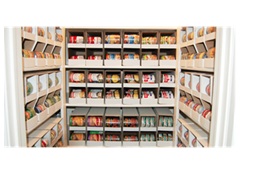 Of course if your cupboards are crammed with different odds and ends and you don't have space to fit several organizers in a row, customize what you need for the space that you have.
Aren't you ready to be organized and clean up those cupboards? Be better prepared and save now by visiting CanOrganizer.com and selecting the perfect size for your home.
Watch how easy they are to assemble
And yes, CanOrganizer has offered a fantastic giveaway to one of you lucky readers! They are offering one 4 packs of can organizers, of any size. So whatever suits you best, the winner will be able to choose.
To enter the giveaway to win a 4 pack of organizers (your choice), please do the following:
Visit CanOrganizer.com pick the size you would like to win and leave a comment with that info. Easy!
Bonus entry: Facebook or tweet about this giveaway and include a link back to this post.
Please leave separate comments for each thing you do.  Giveaway will be open until Saturday April 7, 2012 and winner will be chosen via random.org.
And if you aren't feeling lucky, or end up not winning the giveaway, CanOrganizer is offering a 10% discount off any purchase
Just put in the code 'decor' at checkout (expires at the end of April).
Good luck everyone!
*Update- the winner is #62 and that is AnneSATX. An email has been sent to you!*
xxoo,
Decorchick!