So with homeschooling about to start up (which I've done nothing with so far except order the curriculum which is still in the big white boxes), I decided to make part of the gameroom upstairs into our little classroom area. I think having a dedicated space is important so crap isn't thrown all about the house and I forget where it is, so that is the plan for now. The first step in creating that little nook is to find a desk. And when I went to World Market a few weeks ago, it was on SALE, and we got an additional 15% off for using our rewards card there!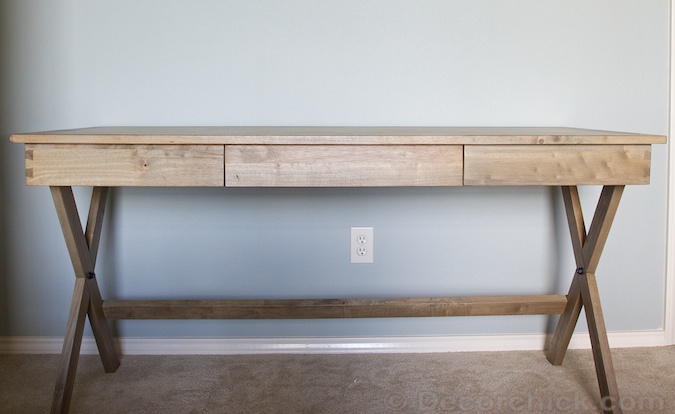 No it isn't styled, and yes, this is literally the only thing I have done up there to get read. #babysteps
But isn't it so pretty? I have always loved this desk. I actually wanted it for my office downstairs, but since it's so open, seeing cords and whatnot would drive me batty. But it's great for homeschool!
My other favorite thing about this desk is that it's pretty long (60.1 inches), and there is more than enough room for 2 chairs. So Emma can sit and do work, and I can be by her working as well if necessary. It's 24 inches in depth too, so that is also nice. A great big work area!
This desk has a pull out drawer, and both ends also pull out. Perfect to place a drink or let another kid draw.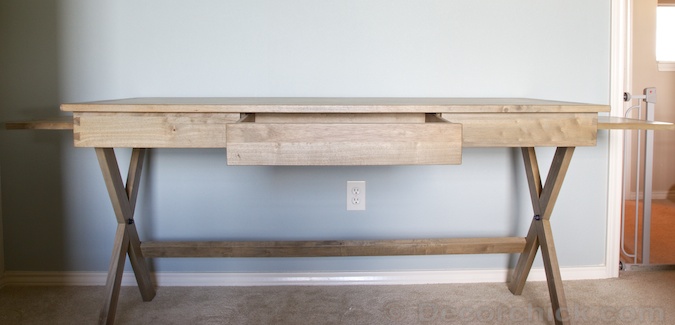 This is the top of the desk.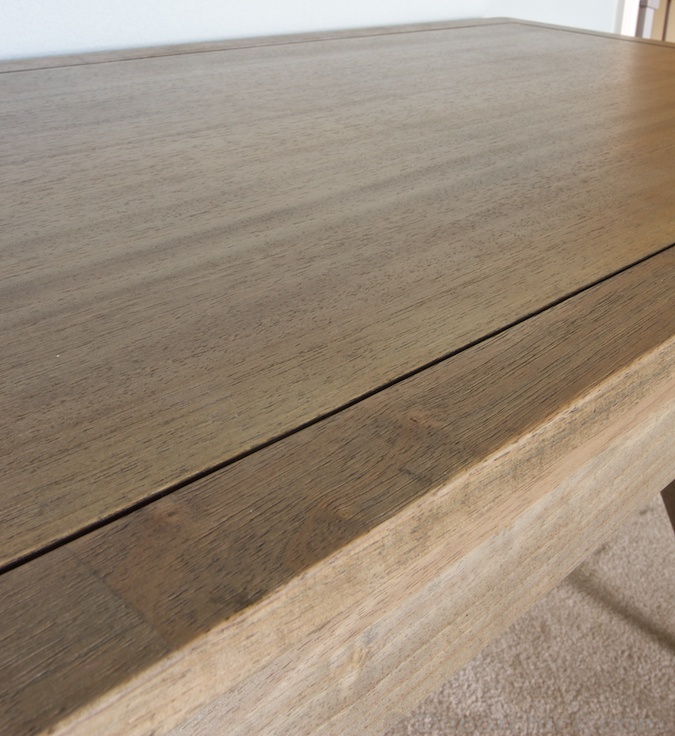 It has plenty of variations in color and is well made, which is also important.
And if you're wondering, no, that bar does not get in the way or bump your shins when you're sitting down. That was my husband's main concern. :)
Now, if I could just get my rear in gear and get this space ready, life would be dandy. Dog days of summer are taking a toll on me. I won't even tell you what time we've all been sleeping in till…
The good news is that I just checked while writing this post, and the campaign desk is still on sale! It's on sale for $179.99, but when you use your World Market reward card, you get an additional 15% off, so that brings the desk price to $152! I honestly would have paid full price for this desk because I like it so much, but getting it for almost $80 off is a heck of a deal.
Now who wants to come help me get ready to teach and whip this nook into shape??!!
xxoo,
Decorchick!