Or should I say "Shandy" because that's how it sounds when you say chandelier for short?  Um, anyway…
After we got everything in our new office, the old dining room chandelier was just a major eye sore.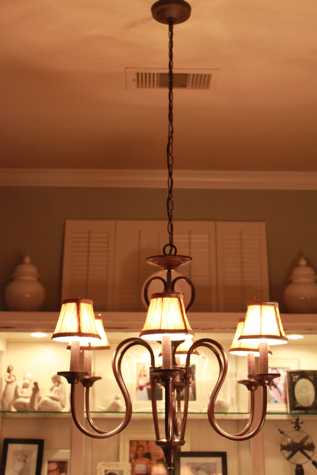 It was big, bulky, and just not for an office obviously.  So, this is what we replaced it with…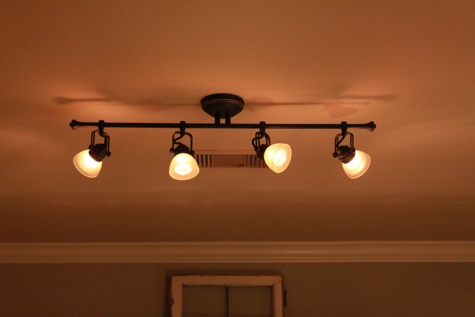 Yes, track lighting!  And I know you can't tell much from these pictures because I'm being mean and only showing you snippets, but it's SO much better.  The halogen lighting makes everything lovely.  We got the light at Lowe's and I can't remember the exact price, but it was from $80-$100.  It installs just like any other light fixture, so it was really easy to do.  And luckily we already have a dimmer switch in this room, so we can adjust the brightness and it's perfect.  I like them on low to medium because it's a soft beautiful glow.  If you don't have dimmer switches, your life will be forever changed if you put them in.  It's easy AND cheap to swap out your existing light switch for a dimmer, and Thrifty Decor Chick has a very easy tutorial on how to install a dimmer switch in case you are scared.  But please don't be scared, it's easy!
Your life will forever be changed if you get some track lighting too. :)  I would love to have the spotlights all around the house. Makes a huge difference, and great to showcase pictures and art, or anything pretty.
And finally, the office is complete so I will show you all tomorrow I promise!  :)
Do you love track lighting?  Have any dimmers?  Was your life changed? :)
Don't forget to enter the awesome giveaway from Knitty Bitties HERE.
Please visit these lovely sponsors too. :)
Altar'd – How to paint furniture guide
xxoo,
Decorchick!