I can't believe we have a winner but we do! Thanks again for letting us have a humiliating time showing you all our best awkward photos from the "awkward years." It was quite painful. No joke.
Did you guess who I was? I can't believe I am posting this picture even LARGER, but in case you didn't know I was B.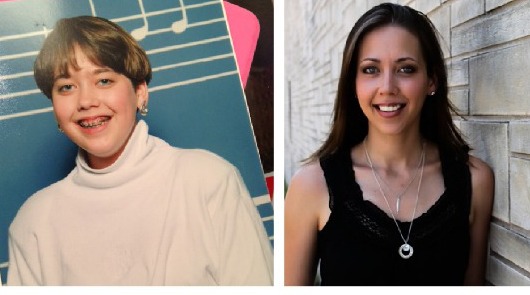 See the resemblance? Me either. Gosh that is seriously painful to look at. And did you know that my mom actually text me and said she had to look at the big photo collage 3 times before she "recognized" me? What the hay??! Hahaha.
Moving on. Forever from that picture hopefully.
There were so many of you who were soooooo close to guessing all the DIY bloggers correctly, but finally one person…one blogger…one true DIY fan rose to claim victory!
Please meet the winner of the Before They Were Bloggers Contest:
This girl knows her DIY blogs because she's a blogger herself. Please take a minute to congratulate Sara by leaving her a comment on her blog today. She spent a lot of time holding a sick little baby yesterday and clicking back and forth to the different blogs to match all 29 faces with their blogs (she's quite the multi-tasker isn't she.)
And now… the moment you've been waiting for… here are the match ups.
B. Decor Chick
G. Sawdust Girl
J. DIY Showoff
T. The Nester
Y. 320 Sycamore
Z. Just a Girl
Did you do good in your match ups? Check out each blog because most of them will be posting a side by side photo of themselves. Feel free to laugh a little more.
It will be back to reality and decorating tomorrow I promise. No more baggy white turtlenecks for me.
xxoo,
Decorchick!
Let's Connect!