Oh my gosh I am so excited to show you this today.  You're going to die from the cuteness!  As you all know and are probably sick of me talking about, I'm having a baby in about, ohhhh, 17 days (Oh.My.Gosh!), and I wanted my daughter to have some cute custom big sister shirts for each day we'll be at the hospital.  I'm having a c-section again (Emma was an emergency one), so I anticipate we will be there 3 or so days.
So I called up my friend Gina who is awesome and does this type of thing with her fancy smancy embroidery machine, sent her the images I wanted that I found on Google images, and she made it happen. And these are the 3 shirts she made for me.
Adorable!!!  The giraffe one is just too cute for words.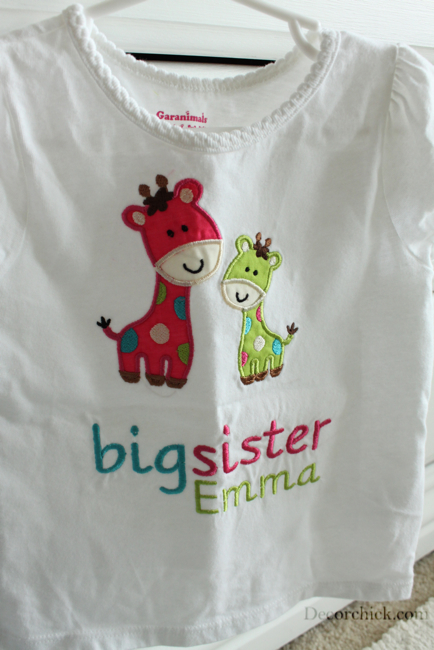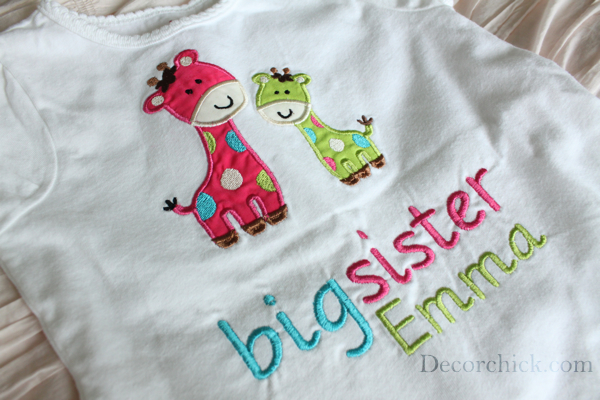 She found the giraffe embroidery applique design from DaWanda and can be found here.
I found this next one just on Google images and it had a bow and ribbon attached to the bottom, so I may try and do that too. But Gina made it exactly like the picture I sent her. She's good like that.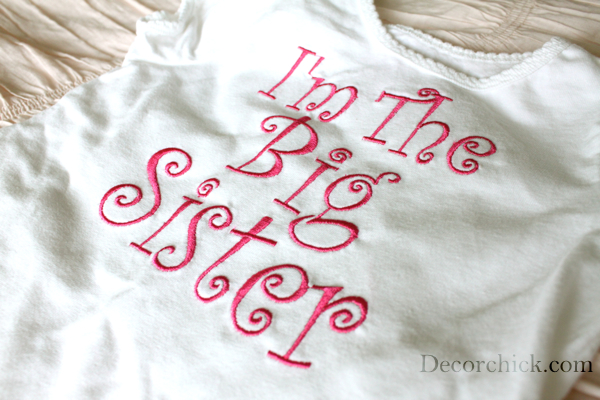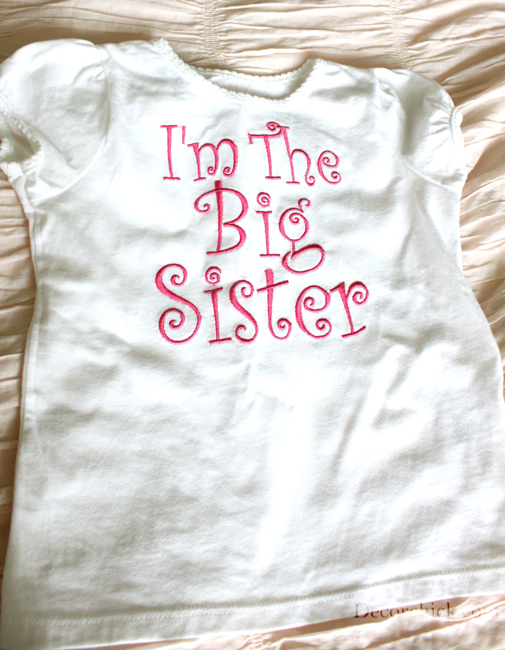 So cute!
And the last one is this: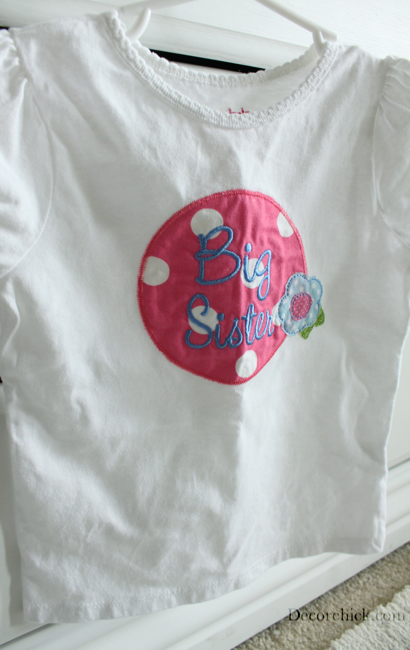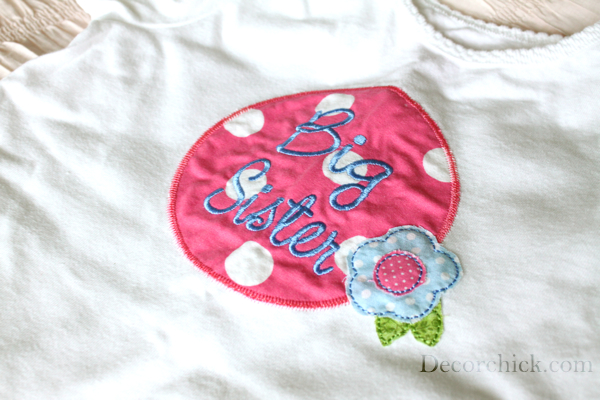 So precious. She found this applique design and purchased it from Applique Market and can be found here.
Ok seriously, aren't those shirts the cutest thing EVER?? I can't wait for Emma to wear them.  She's going to be so proud. Oh the things I could do with an embroidery machine.  I think everything in our house would be monogrammed if I had one.  But I probably won't ever pay for a good one, so I'll just keep paying Gina.  :)  Oh, and she's closed for business now because she's also expecting a baby soon, otherwise I'd link to her info.  Maybe once she starts up again she will let me pass on her info to all of you if you all promise not to bombard her at once with orders. :)
Have any of you made any big sister/big brother shirts when you had more kids?  I bet they loved it!  I also have a gift from the baby to Emma when she comes to the hospital too.  I found a bunch of Hello Kitty and other cute stuff in Target's dollar section and put in a Hello Kitty purse so I hope she likes that too.
Oh yea, and did I mention SEVENTEEN more days till all of this occurs?  Hold me.

xxoo,
Decorchick!