*This giveaway is now closed and winner is announced at bottom of post*
Happy Friday everyone! I'm excited to let you all know I have partnered with Apartment Guide for their New Year, New Style: Decorating on a Budget campaign! I think with every new year, every person is longing for some kind of change. It doesn't have to be a huge change either.  I know I always want to change up some decor in our home at the first of the year and get ready for spring. Whether you're living, looking or moving Apartment Guide offers how-to tips for making the most of your space on a budget.
There's a little area I'd like to freshen up a bit and that would be our entry table.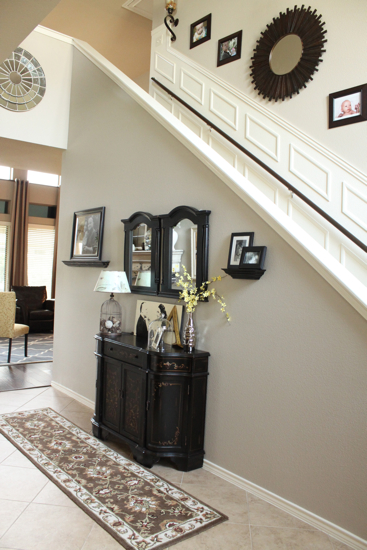 There's a lot of things I want to do to this wall, but for the time being I'm just going to focus on the accessories on the table…I think.  And my bird cage lamp bit the dust a while back and so there is no lamp on the table and I've missed one tremendously! So a new lamp is a definite must. And the table itself is really too small for that wall, but that's for another day. But regardless, I'll definitely show you what I end up doing on a budget of course. :) Ready to redecorate your home but short on cash? Apartment Guide can help you find inexpensive decorating ideas for how to update an area or room without spending a lot of money.
There's also another spot I'm considering redoing, and it's a small area. Are you looking for new furniture for a small apartment? Check out our ideas for where to find pieces especially meant for small spaces: http://www.apartmentguide.com/blog/?p=2581
Also, if you're ready for a whole new space or are looking to move, Apartment Guide has the photos, floor plans, features and tips to help you find the perfect apartment community.  Then once you change things up or move into a new place, you might be wondering how to make your new space your own? Apartment Guide has tips for how to decorate your apartment on a dime: http://www.apartmentguide.com/blog/?p=1271.  Everything you need is right here at your fingertips!
Want to find even more decorating tips for your home? Apartment Guide provides ideas for people in any sized home on http://www.movingtoday.comand http://www.apartmentguide.com/blog/.
Don't forget to "like" Apartment Guide on Facebook for even more tips for your home.
Now for the giveaway…Apartment Guide is generously offering one of you lucky readers a $50 American Express gift card to freshen up an area of your home for the new year! Wahoooo!
To enter the giveaway to win a $50 AMEX gift card, please do the following:
Leave a comment and tell us what part of your home you'd like to spruce up.
Bonus entry: Follow Apartment Guide on Twitter @AptGuide for real-time tips and updates on making the most of your space.
Facebook or Tweet about this giveaway including a link back to this post. You can even tweet this if you want "I just entered to win a $50 AMEX card over at @decor_chick courtesy of @AptGuide. Enter here: http://bit.ly/zXcJzA"
And that's it! Please leave separate comments for each thing you do.  Giveaway will be open until Friday, January 20, and I'll choose the winner via Random.org.  Good luck everyone!
UPDATE: The winner of this giveaway is #44, so that is Mary Lynn! Please email me and I'll get you in touch with Apartment Guide.
xxoo,
Decorchick!
Disclosure Statement: Apartment Guide and owner Consumer Source, Inc. partnered with bloggers such as me to participate in their monthly blogger programs.  As part of that program, I received compensation.  They did not tell me what to purchase or what to say about the products used, and believe that consumers and bloggers are free to form their own opinions and share them in their own words. Consumer Source's policies align with WOMMA Ethics Code, FTC guidelines and social media engagement recommendations.