We've been wanting to put in lights under our kitchen cabinets since we've moved here.  Then we saw them in our neighbor's home recently, and I went out and copied them exactly.  Thank you neighbors! :)
We used a Hampton Bay light kit from Home Depot and it was $44 for 6 lights.  Not bad!  And yep, Nester was right…more than likely there IS an outlet above your microwave so you too can put in lights. :)  So once I realized we had one, I started skipping around the house.
Then I had my husband do all the dirty work and install them.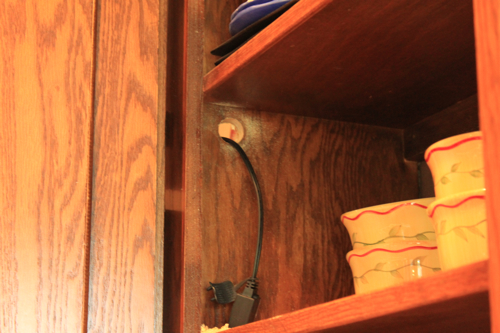 Gosh that is such a horrible picture because the grain on our wood looks freakishly ugly.  But anyway, he had to drill a few holes like that, run the wire, staple the wire under the cabinets and that's it!  Easy for me to say. :)
Here are what the lights look like under the cabinets.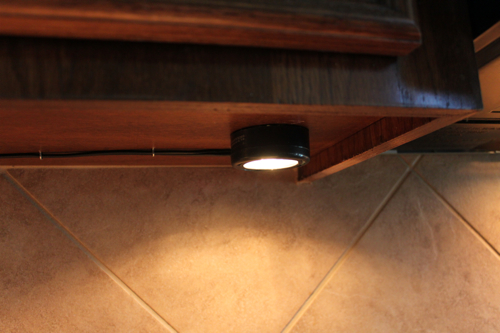 And when your husband finishes you have new beautiful lighting!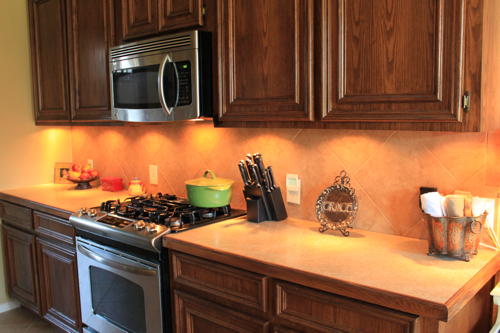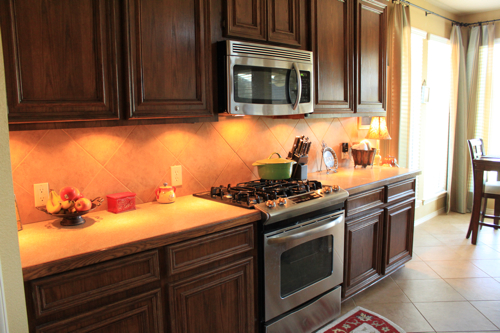 It's kind of hard to take pictures of lights and these came out really yellow, but they aren't in person.  I apparently used the wrong setting on our camera.  Oops.  But they really  "fancied" up our kitchen.
Here they are at night and in the dark.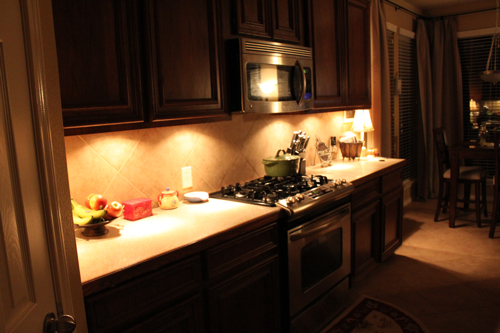 The coolest part about these lights is that there is a small touch pad that came with it, and it's mounted next to our microwave. That is how you turn them off and on, and there are 3 different levels of brightness.  Sweeeet!!   I'm tellin' y'all, fancy stuff. :)
Simple updates like this make a big impact.  We are so thrilled with them, and now we need to do the other side of the kitchen. :) We don't have another microwave on that side of course, but we do have a refrigerator and that has an outlet so we should be able to hide the wire. Yea!
xxoo,
Decorchick!