Sorry this isn't a home decor project (but I did make a few crafty things so that counts), but several of you wanted to see Emma's birthday party so here it is.  This was another kind of project in itself!
The theme was kind of princessy, polka dots, and hot pink. I asked people to wear pink if they had it too. :)
Here is the table with everything on it.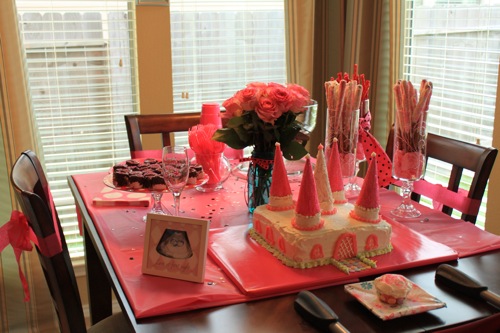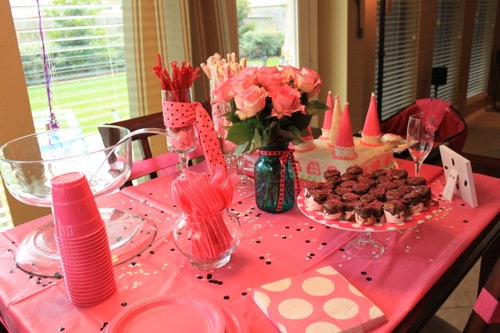 I made some dollar store hurricanes and made some white chocolate covered pretzel rods with pink sprinkles and put inside 2 of them, and the other just put Twizlers.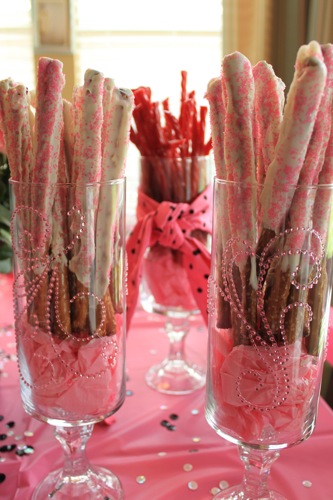 I stuck on some rhinestone stuff from Hobby Lobby and just tied some extra fabric I had from Emma's dress on the other.  They made a pretty presentation, and for cheap!
For those pretzels, all I did was melt white chocolate chips in the microwave, then kind of rolled the pretzels around till they were covered and then put lots of pink sprinkles on.  So easy and they were yummy!
Check out the castle cake my mom made her…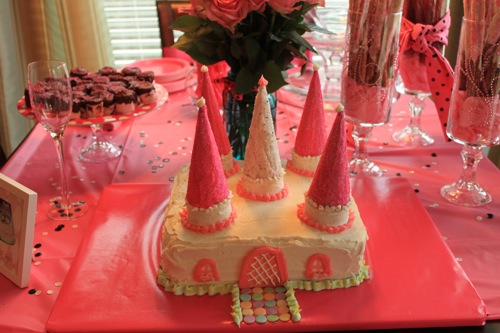 It was so awesome and Emma loved it.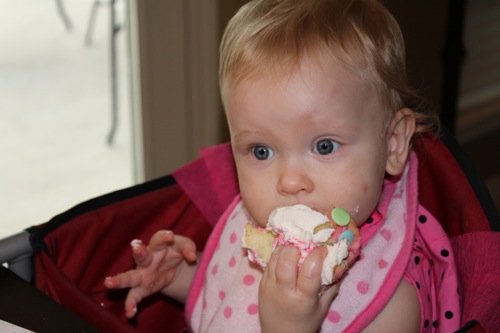 I made a pink punch with 7-up and strawberry ice cream.  I promise it was a light pink but the picture doesn't show that.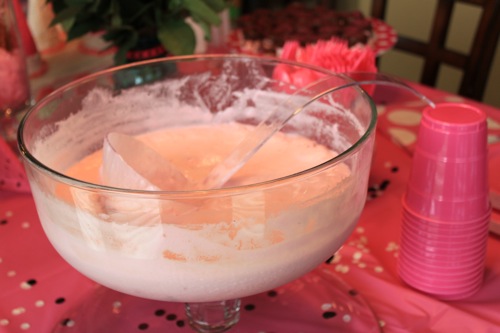 Here are some chocolate covered strawberry marshmallows sitting on a dollar store plate, then with a dollar store candlestick glued on the bottom.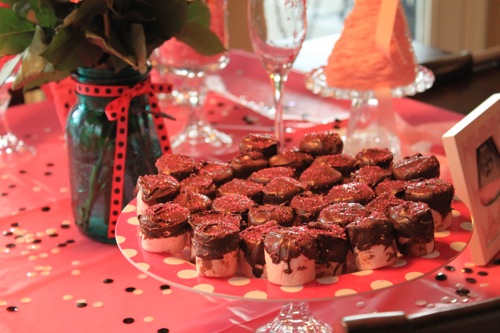 Here is what I wrote on my chalkboard in the breakfast area…
For the table centerpiece I used pink roses and used one of my blue mason jars.  I really like the blue and pink contrast.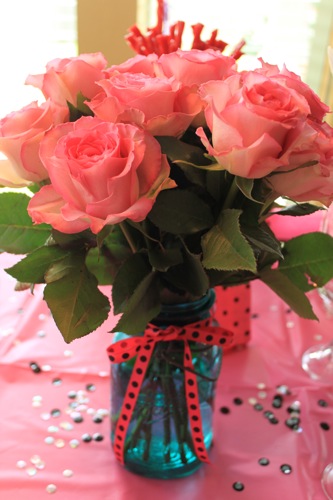 Here is me with the birthday girl.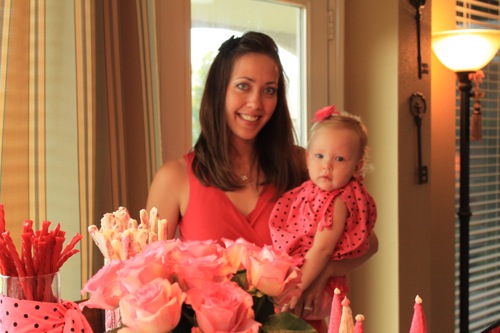 And Daddy with the birthday girl…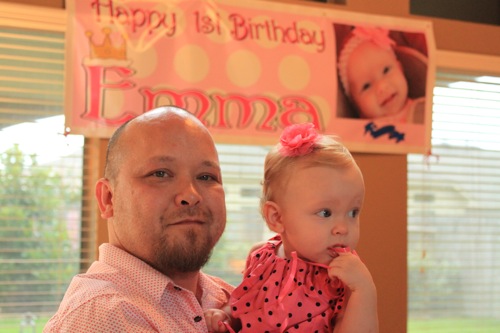 I had that banner in the background made at the local sign shop and it was soooo cute!!
Oh yea, the princess hat…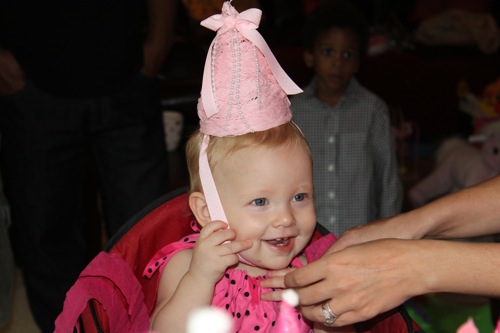 She wore the hat for just about as long as it took you to scroll past this picture and continue reading. :)
I tried to get a good picture of her standing so I could show you the pillowcase dress I made her, but she's too quick now and just walks everywhere!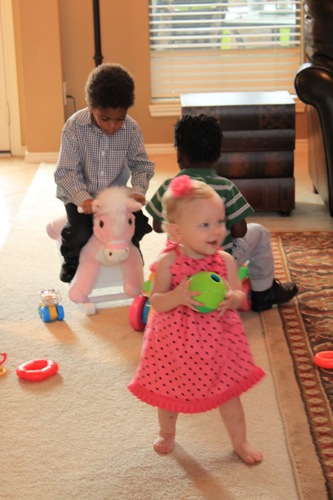 I think this picture is particularly funny with her 2 cousins in the background, that are obviously too big for the pink pony and the little push car.  Haha.  My sister and brother-in-law adopted these two boys from Haiti and they are the sweetest boys ever. Emma loves them!
Emma got lots of CUTE clothes and accessories for her birthday.  We got her a new play kitchen and she LOVES it!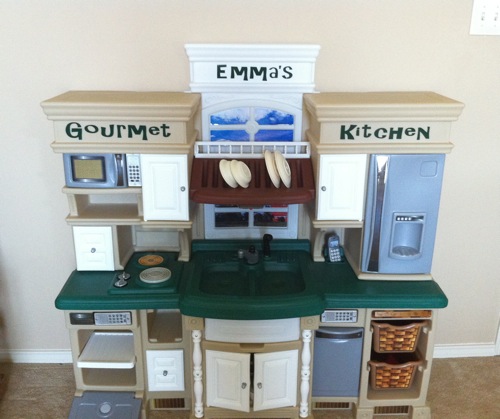 It wasn't cheap by any means, but she will play with this for many years to come.  Heck, it was even a hit with her teenage cousins, so if Emma still plays with it when she's older like that, it was money well spent. :)  I had that vinyl made at the sign shop and put on the kitchen instead of the stickers it came with.  It came with that vine-grapey stuff.  I think the vinyl is much more hip. :)
So, I think that's it.  It was a great birthday and she had a blast.  Parties are lots of work, and I don't think I've ever been so exhausted at the end of a day, but it was well worth it.  So I'm calling her first birthday a success!! :)
Now, today I plan on doing absolutely nothing.  The house will continue to be pink with sprinkles everywhere and I'm kind of diggin' it. :)
xxoo,
Decorchick!