It's a very tricky color.  I could end this post with just that line and that would give you enough information.  But, I won't do that to you and will tell you another little paint journey I just had. Maybe I should rename this post "when bad things happen to good people."  Because I am a good person and this has happened far too many times now.
Moving on…
You know I am changing up the dining room.  And you know it was red.  And you know there is a lot of molding work in that room now because we added the crown and chair rail.  So instead of putting some anniversary money we received toward a nice romantic dinner or something, I put it towards hiring the paint contractors I've used before to paint for me.  The thought of priming over red, then painting a lighter gray color, and all of that cutting in just really didn't appeal to my lazy ways.  The contractor was only charging me $150 which is not bad at all.
Sooo I did a lot of research on gray paint, and asked my friend and gray paint queen, Jami, what a good color would be.  She thought Light French Gray by Sherwin Williams would be nice and recommended a few others.  I went and got some samples, liked the Light French Gray a lot, painted it on poster board, and hung it up in my dining room for a week to make sure I didn't get any wonky colors or anything. And nope, I didn't.  It was lovely and straight up gray just like I wanted.
Painting day came and I was thrilled.  The painters were done in about 3 or 4 hours.  There was a problem though.  The Light French Gray that looked so beautiful on paper all week long looked periwinkle in the dining room.  *Sigh*  I tried to convince myself it didn't have a blue or purple tint.  *Sigh* again.  I took it back to SW and they thought the "computer mixer" might have mixed the formula wrong when I had my gallons made. *SIGH*  They mixed it again, it was wrong again, so then I just chose another color altogether.  And no, I didn't have to pay for all of the other paint.  And Jami I still love you, it wasn't your fault!! :)
Here is a picture of my sample on the poster board, and you can see the blue-ish/purpley walls around it.  Not right.  And by this time I had already started testing new colors.  And this is a terrible cell phone quality picture so it looks like tons of different hues.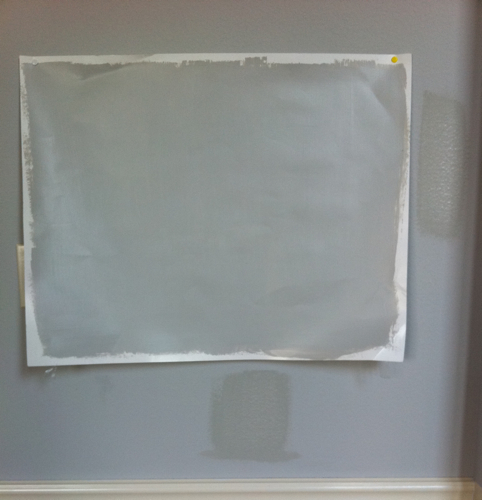 See the blueish/purplish color around the poster board?  It actually was a pretty color, but not gray.  Not at all.
So with me just blowing $150 (and this was the 3rd time this has happened), I knew I had to repaint it by myself.  Good times.  I called my friend Megan who has a lot of gray in her home, and I remember liking the color of her master bedroom when I was over there. We figured out the color in her room is a color called Mindful Gray by Sherwin Williams.  And if it's not that color, it's a close match. So I went and bought that color then painted it again that same day.  What a pain!!
But once you get it right, it's lovely.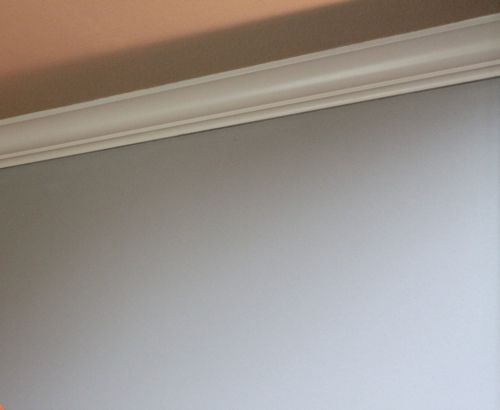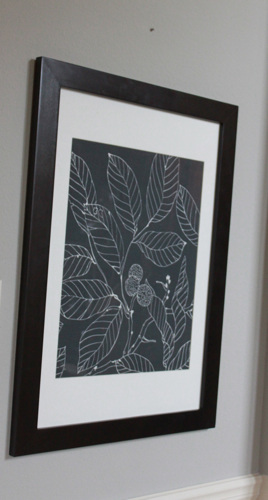 Another thing I did was buy flat paint.  My original sample was satin.  I didn't think the color differences could be that dramatic, but apparently so.  But I LOVE the flat paint.  It covers up the texture so good, and that's a bonus in my book.  The less texture the better. I went from shiny walls in here with a semi-gloss red paint to flat gray.  I'm extreme like that.
I do want to show y'all the full room, but there are things I still have to do and buy.  Too bad I could have an extra $150 right now to buy those things.
SO, the things to know about gray paint are:
1. It changes colors all day long.  Especially if you get a ton of light like we do.
2. It will be a different color on the wall than poster board.
3. Gray paint comes in colors that have undertones of blues, purples, browns, and greens.  So remember that when you choose gray.  It's really tricky.
4. Satin vs. Flat will look different.
5. Gray is a beautiful color.  Did you know brown and gray go well together?  For some reason I always thought they wouldn't look good together.  But they look great together, and gray is an awesome neutral color that goes with pretty much anything.  I want everything gray now.
There, I hope you feel educated about gray paint now. :)
Surely I can't have another painting mishap right?
Do you love gray?
xxoo,
Decorchick!