Hey everyone, to get us all in the mood for Valentine's Day, I decided it would be fun to have a little link party where you all can show off all of your Valentine's day decor, crafts, mantels, vignettes, etc.  Anything goes as long as it's Valentine related. :)
So when will it be?  Glad you asked.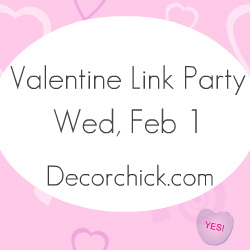 Yes that's right, next Wednesday February 1st, so 1 week from today.  I'll pin some of my favorite projects that y'all link up too!
I'd love for you to help spread the word so everyone can party here next week.  It's gonna be fun!!
xxoo,
Decorchick!