Well the home tour continues today with the new living room!  It really feels like a new room.  Actually the house feels like a new house again, and now finally, a home. I think we all strive to make our homes a welcoming retreat and a place to relax comfortably at the end of the day, but, it takes time, a lot of time.
Let's just say I've had a few "a-ha" moments and "what was I thinking" thoughts running in my head the past few weeks.  It's been fun and a little humiliating at times. But, we all start somewhere, and it's all about evolving. :)
So here it is: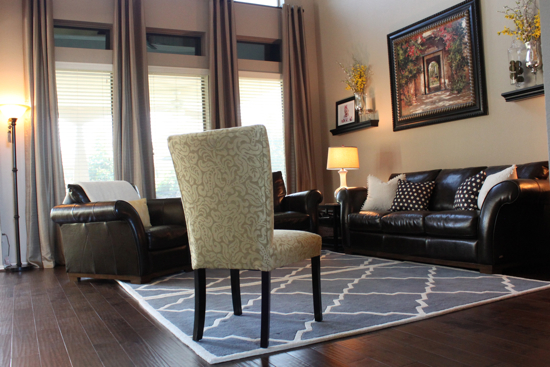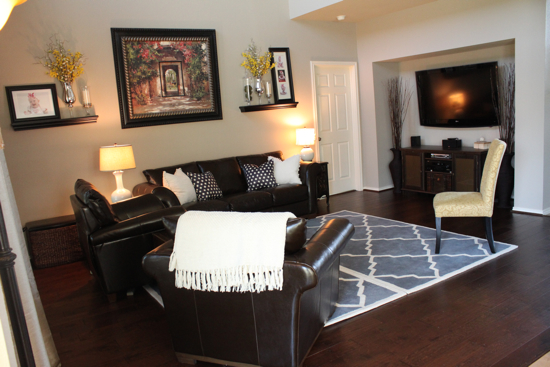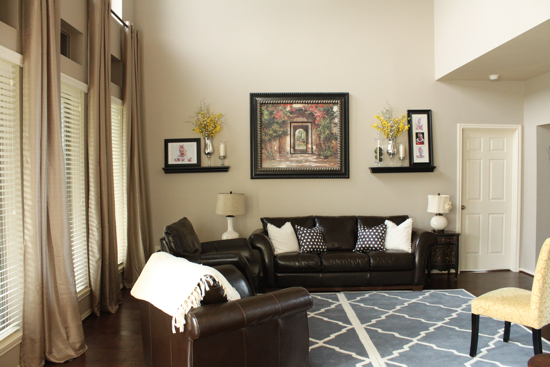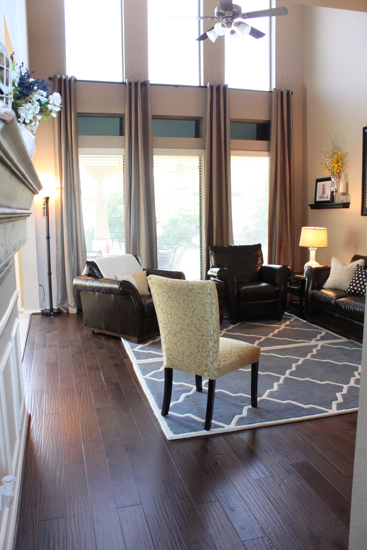 Pretty, right? I am really in love with how the room came out.  It is so amazing how wood floors add an instant coziness and welcoming factor isn't it?  And of course the new paint definitely helps too. :)  I chose to accent with yellow and blue right now, but still keeping it simple and neutral.
I sold our old area rug on Craigslist and used that money to buy 2 of the same rugs from Overstock. I bought 2 because I really liked the rug online, but it was only 5×8, so I thought I would try putting 2 together to make 1 big area rug.  And, I like it! That was risky for me. :)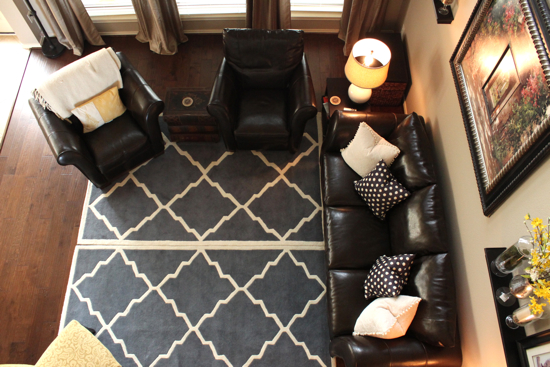 Like the aerial view? :)  And in fact, the rug itself was risky for me.  It's not my typical floral traditional rug I would have chosen and I am really loving the fresh new change.
You might be asking yourself why there's no ottoman or coffee table (yet). I never did move the old red ottoman back in here after I started redecorating.  I just couldn't stand to have that red thing stick out like a sore thumb when I loved everything else so much. I could recover it, but actually now I think I want a nice round fabric ottoman to break up some of the squareness of the room.  I've been looking and looking but still nothing yet.  I may just have to DIY an old round coffee table or something. So until then, we are enjoying the open space. :)
The t.v. nook looks way better than it did, but I still know we need some sort of built in or bigger entertainment center.  But at least my darling husband put the subwoofer inside the entertainment center on the shelf instead of the floor so I could add these: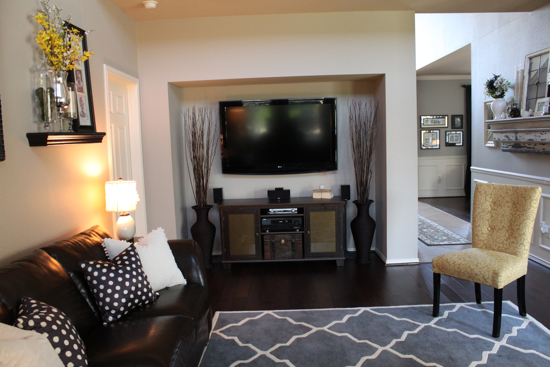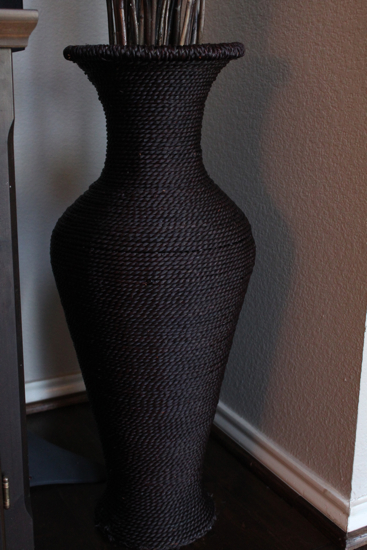 Love.
The polka dot pillows on the sofa were a killer deal.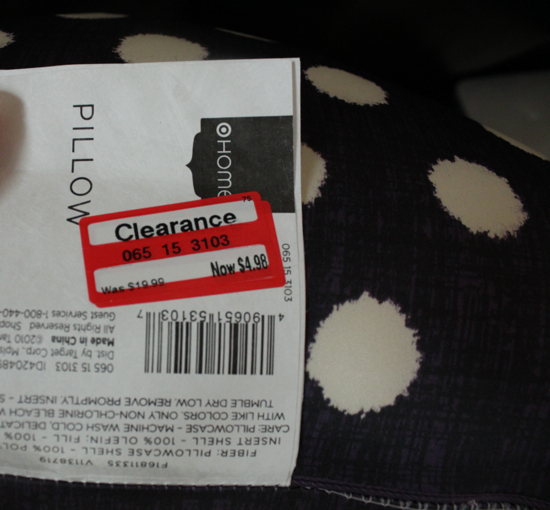 And when the room isn't staged with the yellow chair from the office (because I do want one permanently eventually), here's what is really there.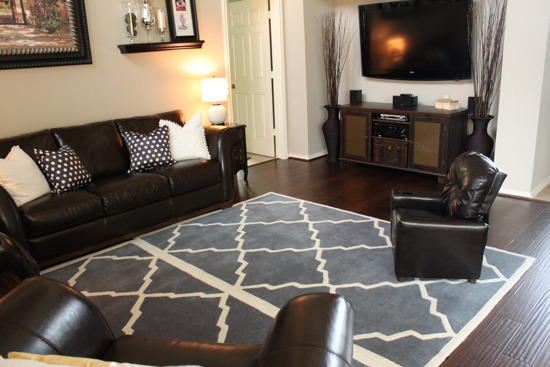 Yes, that's the little tyke's mini recliner. :)
And way too many pics to follow now. Enjoy!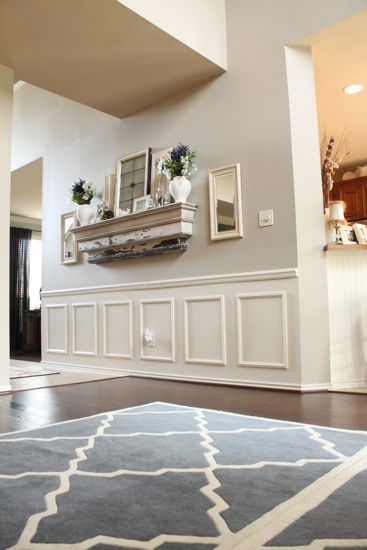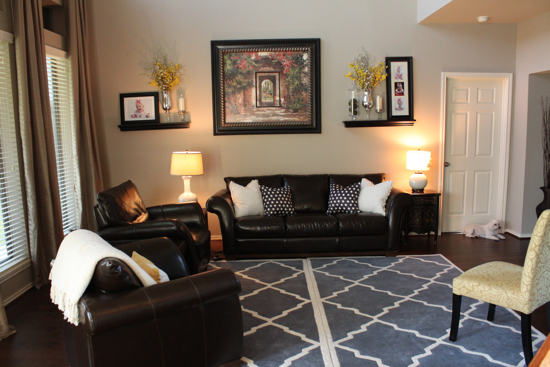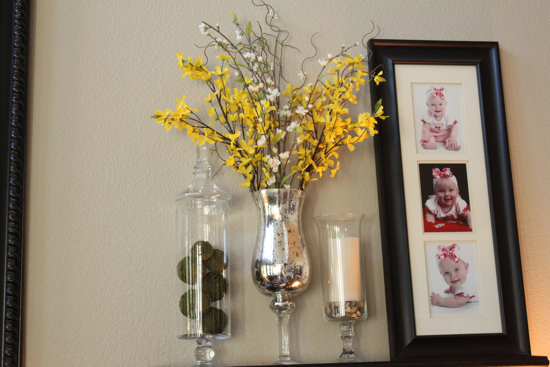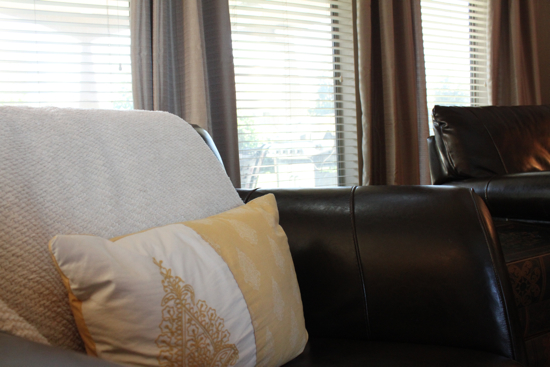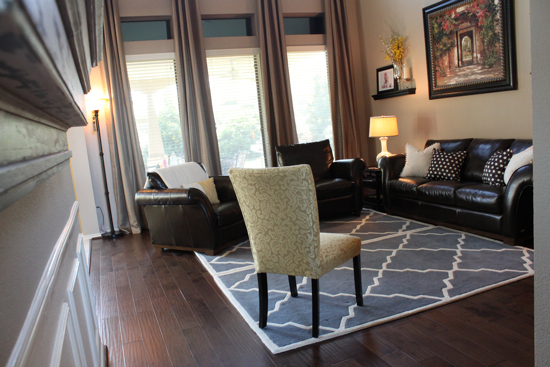 And I hate to ruin this post by adding an ugly before picture, but that's what makes blogging fun.  It shows where we started and how far we've come.  So before: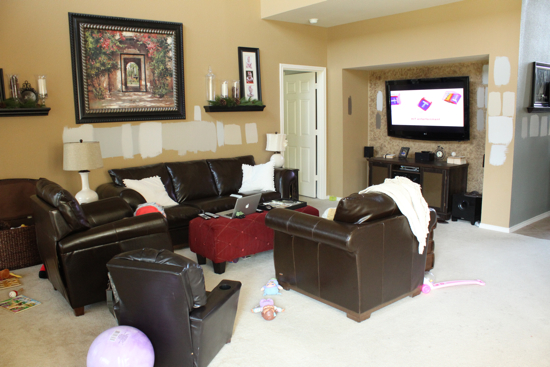 And the happily ever after.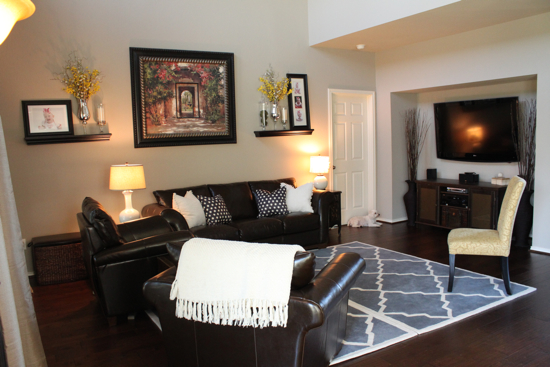 :)
Soooo, whatcha think of our new living room?  I've always loved our house, but now it's just…a different kind of love. There's still a few things that need to be done in here, but for now, I'm calling it done. :)
Here's a source list:
Flooring

: Manufacturer-Castlewood; Color-Winwood Birch; 5inch plank hand-scraped engineered hardwood.

Paint Color

: Balanced Beige by Sherwin Williams (Color matched and used Behr's paint and primer in one) More details about the paint in this post.

Curtains

: See this post for details plus a discount code you can use.

Rugs

: Overstock.com, found here. Be sure and use a coupon–just google a coupon code and you'll likely find a 10% off.

Floor vases & sticks

: Michael's. The vases were $50, but used a 40% off coupon for each one so they were $30.

Polka dot pillows

: Target, on clearance for $4.98

Yellow Pillow

: Also from Target on clearance for $11.

Mercury glass hurricanes

: I found last year around Christmas at Homegoods.
Sharing this post at Centsational Girl's Paint Party, Thrifty Decor Chick's Before and After Party, The Inspired Room's Paint Party and 320 Sycamore's Putting it all Together Party.
xxoo,
Decorchick!