Well, not for us so don't get too excited, although I'd happily take this house in a heartbeat.
This is my Mom and Stepdad's new house. Isn't it beautiful?  They just moved in last Friday.  I'll give you a little tour of the inside.
The entryway:
And it used to look like this when they bought it, with this very dark paint everywhere.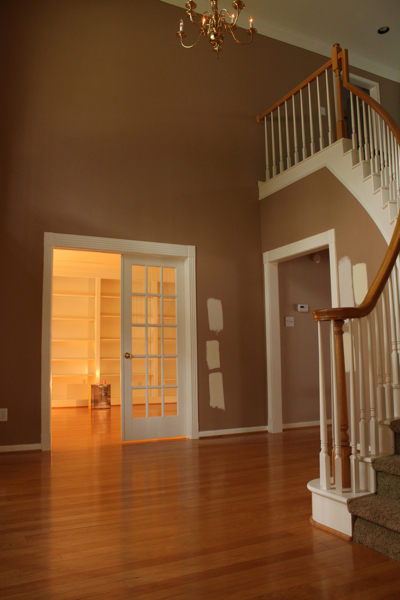 Crazy right? The entryway now is so light and bright and pretty.  My mom chose a Sherwin Williams Color called Echelon Ecru (#7574 in color concepts book) and had that color painted pretty much throughout the downstairs and the hallways upstairs. I love the new color–it's a great neutral.
Here is the study/den off of the entry.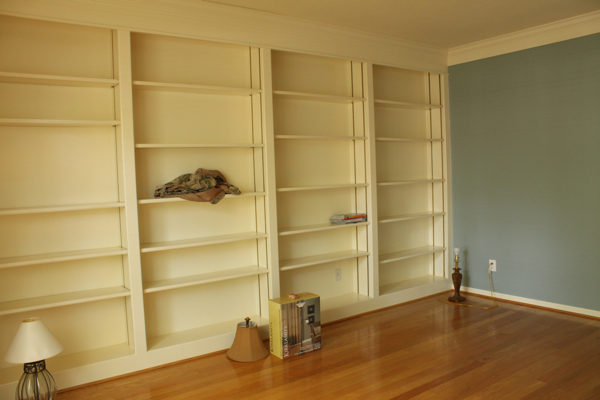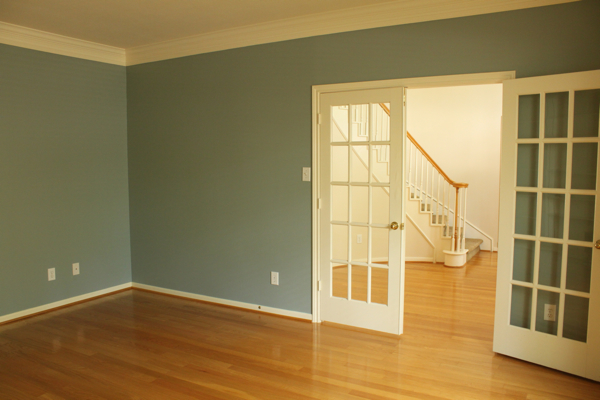 This room was painted Sherwin Williams Breezy (#7616 in color concepts). Love this color too.  This is a really spacious room like all the others but my photos don't do it justice.  And I am SO jealous of all of the beautiful woodwork in their new home. Those built-ins, the crown molding, the pretty door casing…ahhhh. And there is that thick luscious crown all throughout the house.  So dreamy.
Here's the dining room before she had it repainted.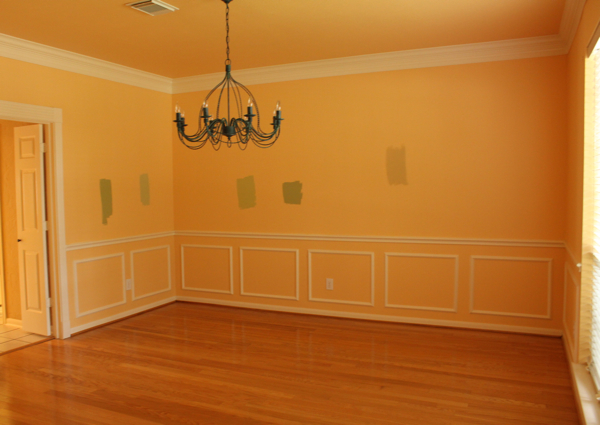 It was bad y'all.  It was this ghastly (said in my Simon Cowell voice) peach neon color.  Sorry peach lovers–it just did not work in this room at all. Nor did it go with the forest green chandelier the previous owners have in there.
And here it is with the new Ecru color.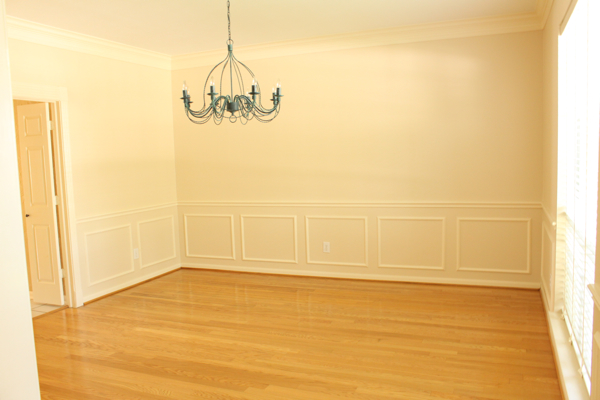 Much better!  And I'm sure I'll be spray painting that chandelier sooner rather than later. :)
Here is the master, which unfortunately my picture doesn't do it justice again.  Just don't pay attention to the big bed in the middle of room.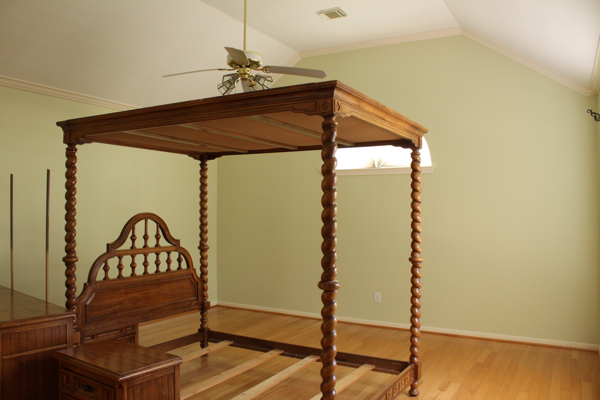 This color is Sherwin Williams Celery, and it's soooo pretty in here too.
The master bath…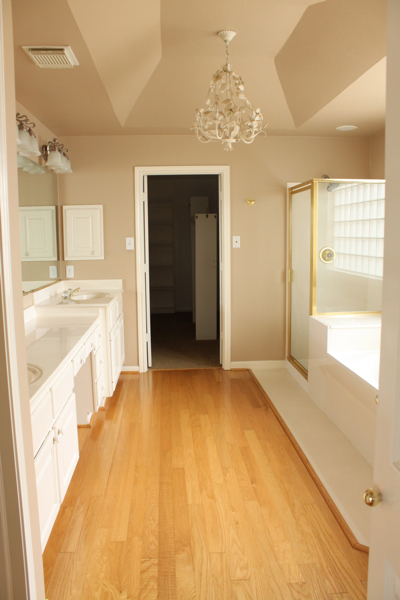 The living room.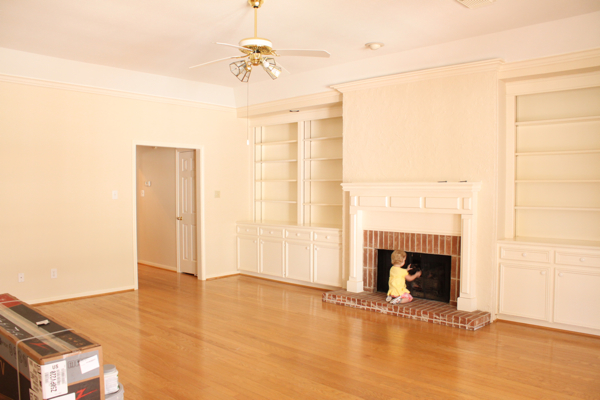 The man cave upstairs…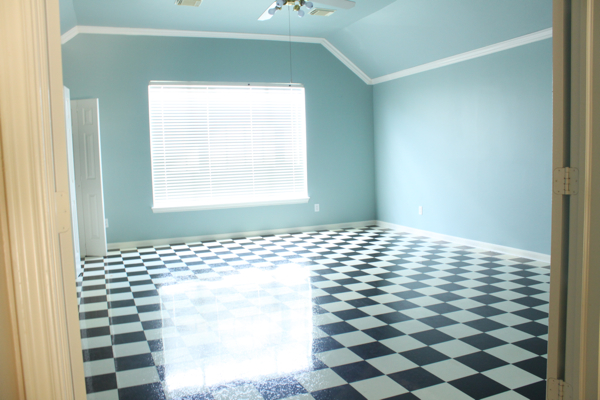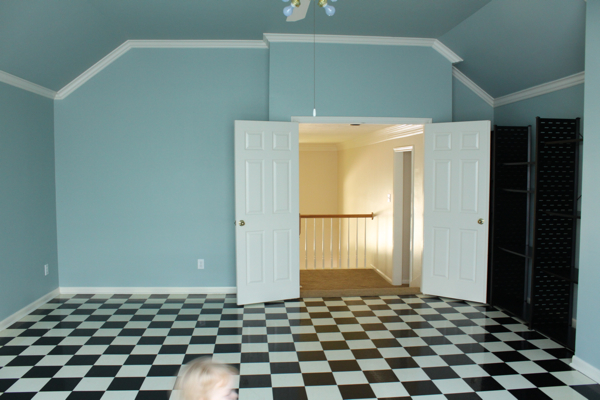 I happen to love the checkered floors, but I think my stepdad is going to replace it eventually.  Boo.
Oh, and the kitchen. This gorgeous kitchen…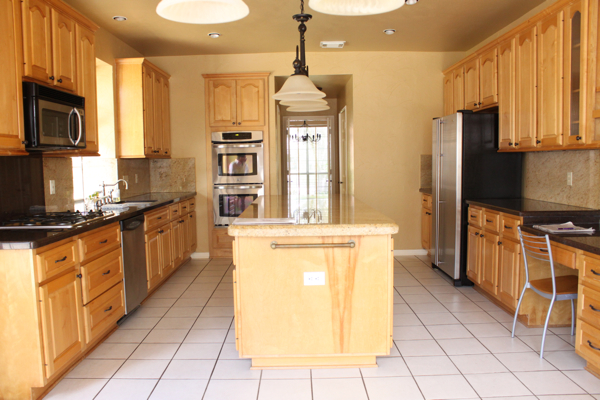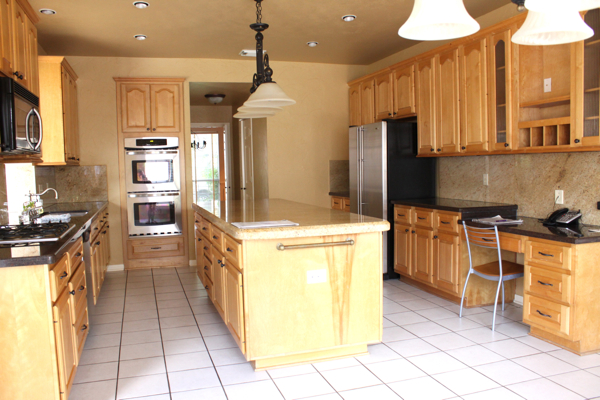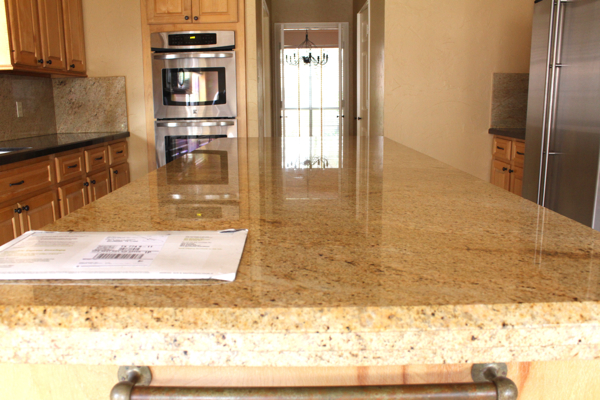 I want to take a nap on that huge slab of granite.  And can I tell you just how awesome it is to have an island in a kitchen? All of you sure are lucky that have one!
Even a pretty view outside while slaving away.
And one of the best parts?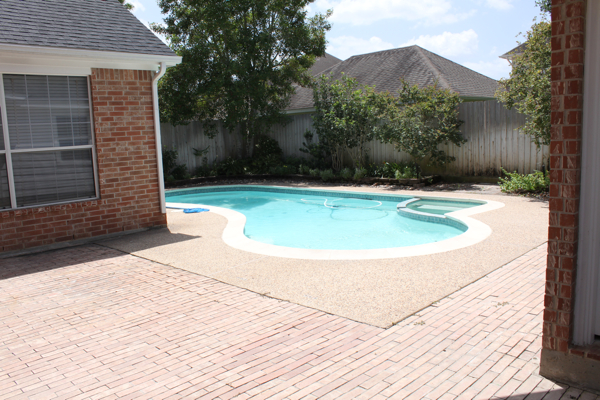 Yay a pool!!  There are many cool things about this house, but I have to say having a pool is a pretty sweet feature.  They moved in Friday and we were all over there then, and Emma really wanted to get in the pool because her sissy and bubba were in.  And since she kept going for it and I was trying to hold her back (because she would totally jump in on her own), I finally just got in with her. Wearing all of my clothes. Yep. So that's my first experience in their new pool. :)
The other best part of their new house is that it's only 20 minutes (18-19 to be exact) from us rather than 50-55 minutes like the old house. I'm so excited about that for many reasons.
So I can't wait to do a few projects at my mom's new house and show you all.  I'm sure I'll be painting all of the bedrooms upstairs and having my first dealing with removing wallpaper in the bathrooms.  Sounds fun right?  And she has some brassy action going on in the bathrooms etc, so I'd like to learn how to replace those fixtures and whatnot.  Should be interesting.
But anyway, congrats Mom and Joseph on your new home–y'all deserve it!
P.S.-I created a molding gallery tab on my navigation bar and will keep all of my molding projects under there so you can find them easily.  I love molding so much I thought it deserved it's own tab. :)
Sharing this post at Sarah's Before and After Party.
xxoo,
Decorchick!