I don't know what planet I have been on, but I just found out about the BEST resale shop that's probably in America.  And it's only 30 minutes away from me in Houston.  Living in a small town outside of Houston, going to the "big city" isn't fun like it used to be for me, and sometimes is just a downright chore.  Traffic, bumpy roads, over-populated = no thank you.  I know I miss out on all of the great stores and shopping we have, but I don't care when there is a Home Depot and Lowe's just down the street from me. And a Taco Bell.  And there is a Pottery Barn and Homegoods just about 8 minutes away. :)
But my new friend and fellow blogger Elsa, (who just happens to live in the same small town as me!) alerted me to this resale shop called The Guild Shop.  So on Tuesday I loaded up my daughter (which was a big mistake) and we headed to the big city of H-town.
It was love at first sight when I walked in. The place is HUGE and even nicely organized.  And it's really nice stuff, not junk.  I saw a bunch of rich-looking ladies in there.
I managed to snap a few photos with my phone so you could all get a taste of the goodness.
Tons of chairs and frames. Like, tons.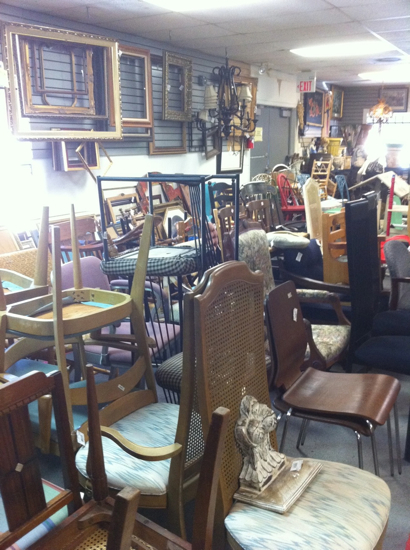 Lots and lots of furniture.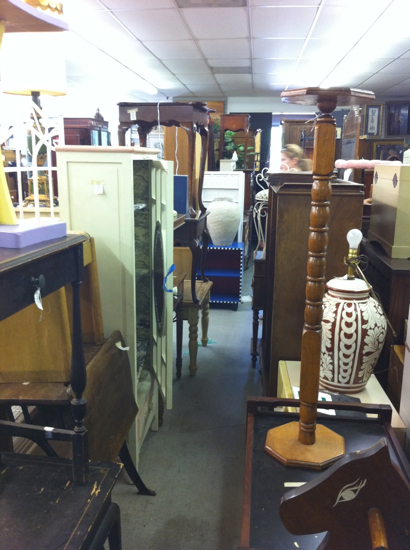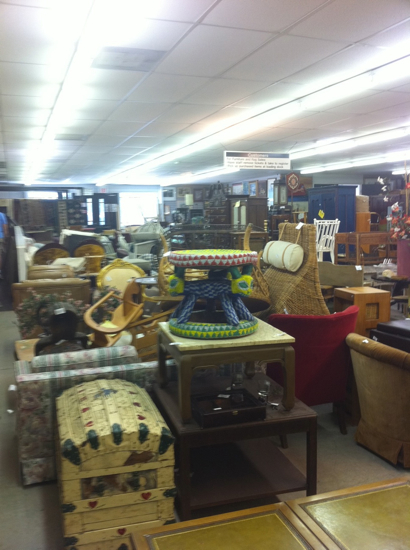 It was an obscene amount of furniture, but heavenly.
Plenty of lamps and mirrors to make pretty again.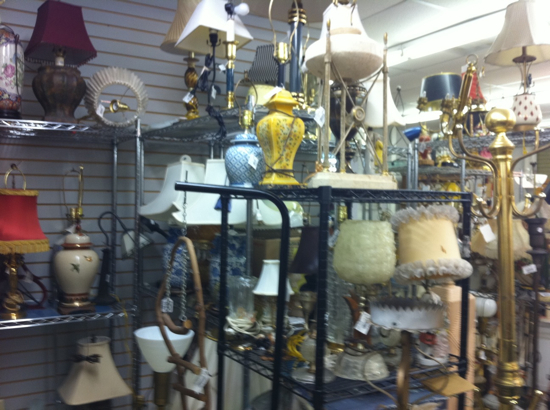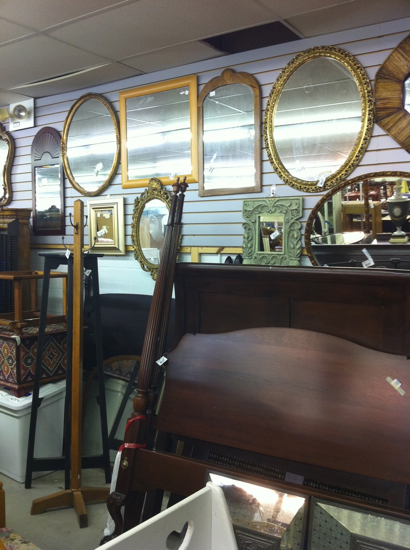 An abundance of stuff and chandeliers hanging everywhere.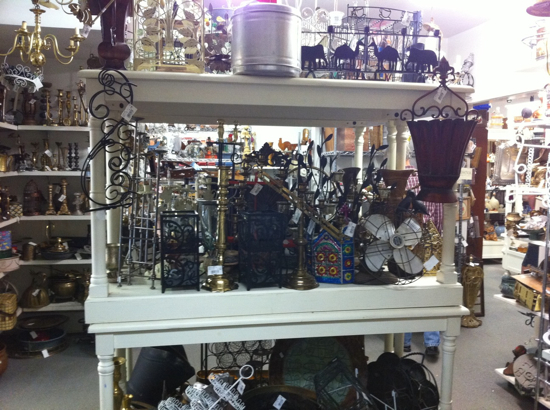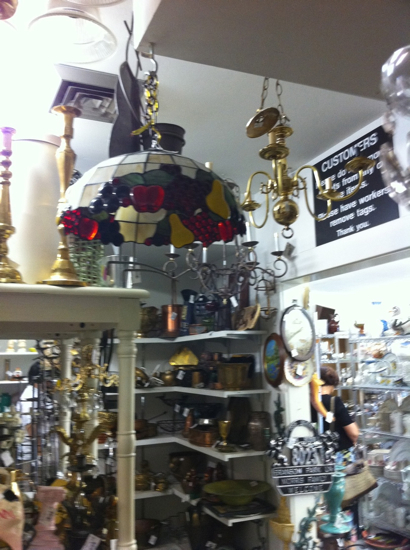 And a whole room full of nice china and silver.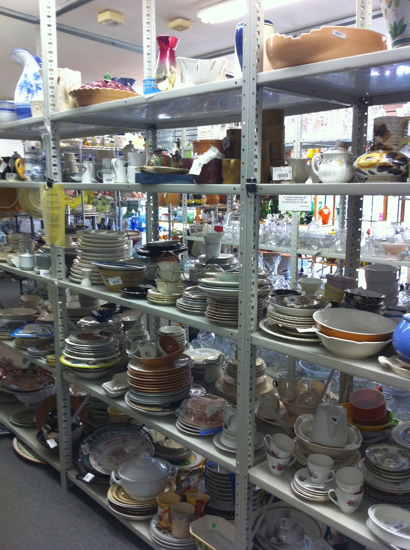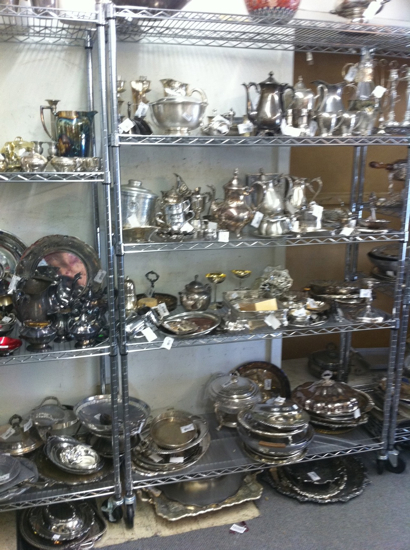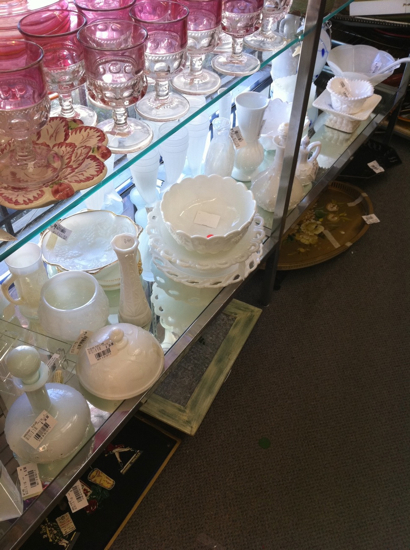 And then I even found this: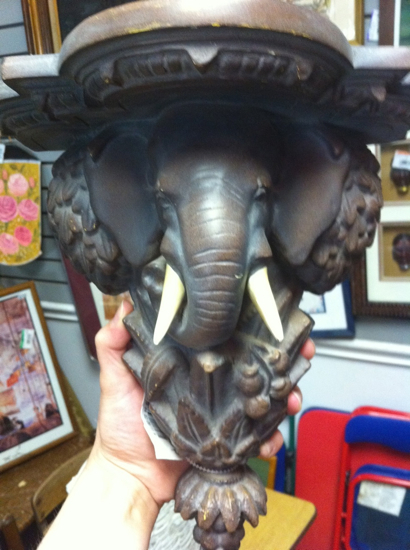 I thought of Nester and her new wall full of white sconce things and how this guy could be a fit if he were painted white.  Even though this is an elephant, it still looked like one of those ram things to me. Weird. But now I remember (thanks to Google) that rams don't have tusks.  I really should go back to school.  But, it's still a funny elephant thingy nonetheless.
So what did I come home with?  Absolutely nothing.  Remember how I said at the top of the post it was a mistake to bring my daughter?  Yea, well that's why.  I should have known better. I could have easily spent hours in there but that obviously didn't happen.  So off to Grandma's she will go so I can go back.  I can't wait!
Do you have any special place like this in your area?  Any of you locals ever been to The Guild Shop?
Even though I didn't come home with a treasure, finding out about this place is a treasure, and it's thrifty, so I'll be sharing this post at Rhoda's Thrifty Treasure's party that's starting up again on Monday. :)
xxoo,
Decorchick!