Megan from Honey We're Home is having a sweeeet giveaway to all of her followers!  $50 to Target!  Who doesn't love Target?! (The link to enter is at the bottom of this post)
She is a great friend of mine (in real life, not just from the internet) and she recently started up her own home decor blog.  She and her husband built the most beautiful home I have ever seen!!  She has incredible taste and style.  I've been wanting to show off a few pictures of her new home anyway, so now is a great opportunity!
Her new kitchen…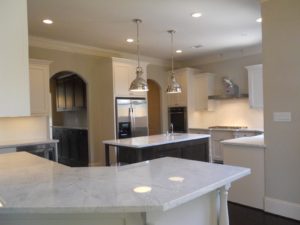 Yes friends, that is Carrera Marble, white subway tile, dark wood floors…ahhhh.  I'm salivating.  She has a farmhouse sink too! She hasn't received the new hood yet for the range, but I know it will be fabulous!  I think it looks great with nothing even there! Ha!
And here is her closet…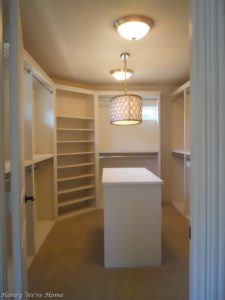 SHUT UP!!  Are you kidding me??  I don't think I'd ever come out of there!
These pictures were taken before they actually moved in, so I can't wait to see everything all decorated and beautified.  Not that it even needs anything though.
Megan made it very simple to enter the giveaway.  If you already follow her, you are entered.  If you don't follow her and would like to enter, click HERE.  Trust me, you will definitely want to follow this gal!  While you are visiting, take a peek at the rest of her home and look at some of the projects she has done.  She has more pictures of her kitchen posted up too.  Definitely check out her gorgeous staircase and her cute little boy!  :)
Thank you friends!
And I'm hoping to have the pantry carousel post ready by Wednesday.  :)
xxoo,
Decorchick!