Well yesterday was my birthday! Yep, I turned the big 18.  Not really but at least I still feel like I'm 18 right? I took a poll on my Facebook fan page yesterday too and asked everyone how old they thought I was and I got a lot of nice, funny, and weird answers. Haha.  So you'll have to look there to see my age! :) But anywho, gadgets.  I love gadgets.  My husband loves gadgets and I think it's his fault I'm a gadget girl now, specifically an Apple gadget girl.
And this is my newest gadget for my birthday.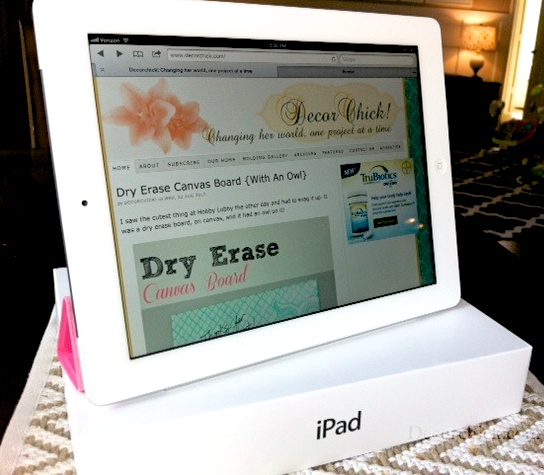 I held out as long as I could on getting an Ipad.  And in fact I never really wanted one because I just thought it was a giant Iphone, which I already have.  But this year I decided I really wanted one, like, had to have one yesterday kind of want. :) Of course that didn't happen because they are pricey, but my husband did get me one for my birthday.  Bless him.
He has had one ever since they came out and I never really messed with it.  Honestly it drove me nuts that every time you move the screen it switches views and vice versa and it never was the right view when I tried to use it.  Annoyed the heck out of me. But mine works great.  :) And I actually can't believe I have the newest version of the Ipad and he still has the 1st generation.  Kind of unheard of around here!
So yea, I'm an Apple gadget girl.  I wish their gadgets were cheaper though!  So now I have the Ipad, the Iphone and my Macbook Pro.  I am in love with all of them.  And it's funny they all do the basically the same thing, yet are so different. Haha.
I'm still getting familiar with my Ipad though and haven't really done much with it yet. I do love the dictation feature though where it will type out your messages for you. Way cool.  Are you an Apple lover too? Do any of you have the Ipad? What is your favorite feature?  Any favorite must have apps?  The only app I have downloaded so far is Facebook. Go figure!
xxoo,
Decorchick!