I am on an organizing kick.  And I like it.
The other day I opened this closet we have downstairs by the powder room.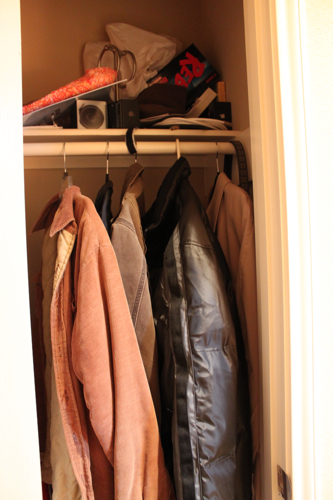 Here is the bottom of the floor once I removed the coats.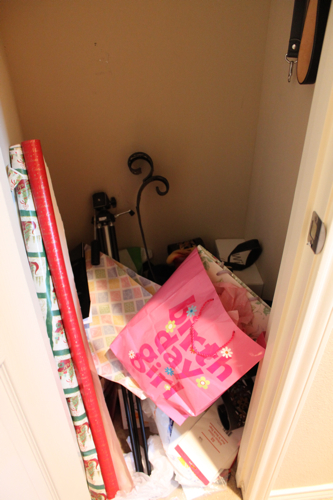 And here is the top of this closet.  It goes up really high.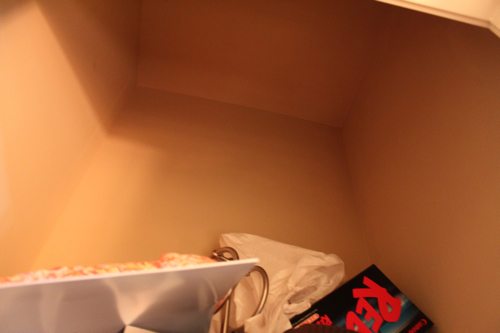 So, as you can see, this coat closet has turned into a junk closet.  What's great though is that I found my winter coat buried on the very bottom.  I've been looking for it since we moved here!  But seriously, we live in Texas, don't have much of a Winter, so having a "true" coat closet really isn't necessary for us.  I just hung up our coats in our Master closet.
Anyway, once I opened this closet, what immediately came to mind was shelves.  In particular, some similar to the ones that Amanda from The Hand Me Down House recently did in her bathroom.  You can read all about her shelves here.  I love this girl! We have to be related somehow.
I pretty much did what Amanda did with the braces.  I had Home Depot cut a long 1×2 into 6, 14inch pieces and used those as my braces.  Then I bought a sheet of some 3/4 inch particle board with a melamine finish, and had them cut 3 pieces for me the length that I needed (28 1/2 inches).  The particle board is already white and has finished edges so nothing for me to do there. The piece of particle board that I bought was already 16 inches wide, and that was perfect for the depth that I wanted the shelves to be.  The 1×2 was only .96, and the particle board was $16.  What a deal!
Here are the braces up.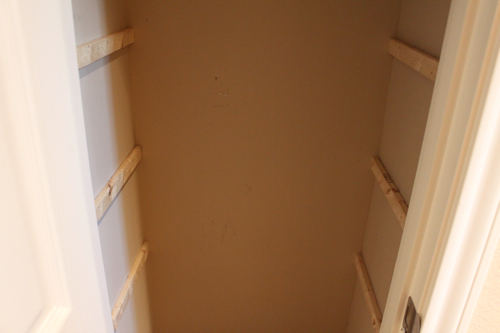 Each shelf is 13 inches apart.  I didn't bother painting the braces.  Didn't really see the point for this project, and they are not even noticeable.  Oh yes, I have to mention that my Dad happened to stop by during this project.  I already had the braces up.  He came and felt them and wasn't pleased that I shot in about 20 nails with the nail gun, just figuring I'd hit a stud at some point, so he hammered in a few "real" nails into the studs.  He's so old school.  :)
Then I just laid my shelves on top of the braces and I was done.  Didn't nail the tops down either.  They were very secure as is. I did have gaps on the side too because the wall isn't completely square, but again, didn't see the point to fill it in with caulk since they won't be seen.
So here is what the closet looks like now.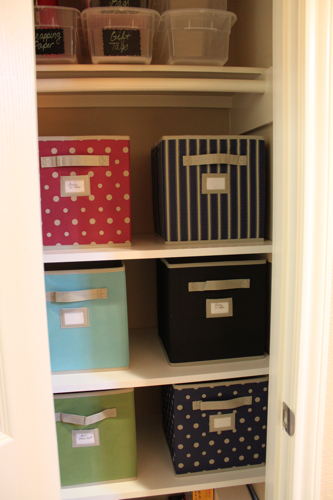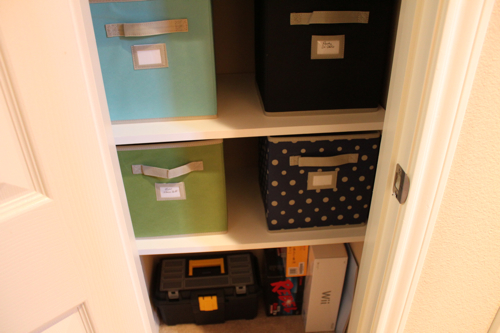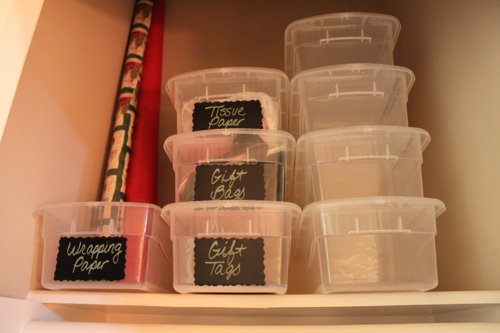 Ahh, organized Heaven.  The cute fabric cubes we got at Home Depot and they are by Martha Stewart.  Hubby actually saw them first and thought they would look "cute" in there if I did all different colors, kind of whimsy-like.  He's a great man.  The clear plastic containers on the top shelf are also from Home Depot and they were .99 a piece.  I bought extra so I can continue to organize as more junk comes in.  I made the labels with the vinyl and chalkboard pens.
Here are a few more pics.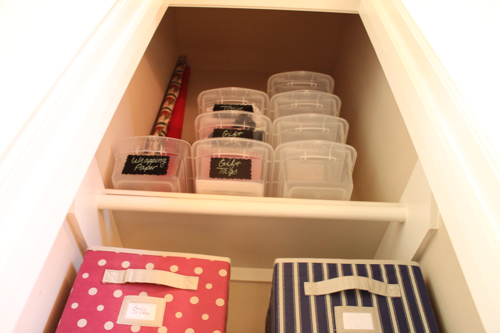 Here is the bottom floor again.  My husband got me the little tool box and some handy tools for my birthday, so I can store things I use regularly in there so I don't have to go to the garage each time I need something.  Again, he's a great man.  I keep heavy duty scissors, hammer, glue gun, level, screw driver set, gorilla glue, and a few other things in there.  I love having it though!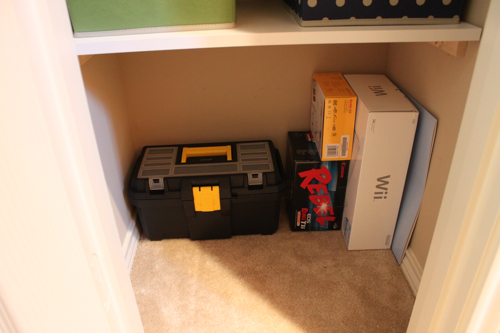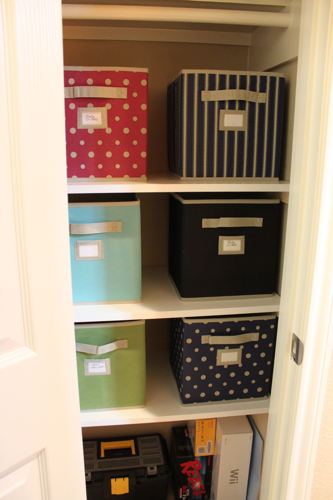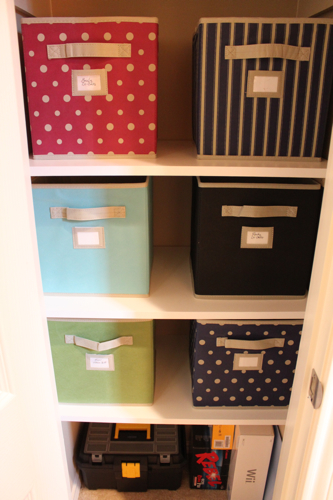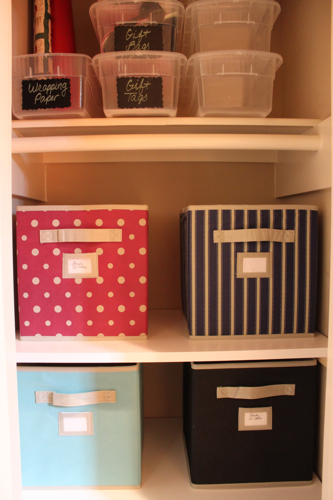 Ahhh, it feels so good to organize!  And what's even better is that there is stuff in only 2 of those fabric cubes right now.  Plenty of storage space available!  I purged a lot of junk when I cleaned the closet out. :)
So do you have a junk closet that you can add a few shelves to and make it a more organized space?  This was SUPER easy to do, and cheap, so go for it! :)
Sharing this post at Sarah's Organize It Party.
xxoo,
Decorchick!