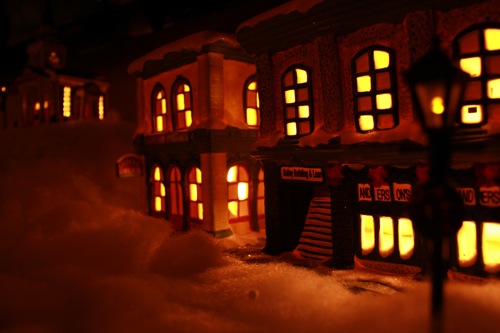 I love Christmas.  It's been really exciting decorating this year.  Maybe because I have a blog now to share everything. :)  But my husband has been pumped this year too, and even has been helping me get things situated.  What a guy. :)
I really wanted a nativity set to display this year, but couldn't find one I loved.  Then hubby told me about these villages and how magical they were for him as a little kid, so I went on the hunt to find one.  And guess where I found it? Lowe's!  They have cool Christmas stuff.  And, he was right.  These villages are magical.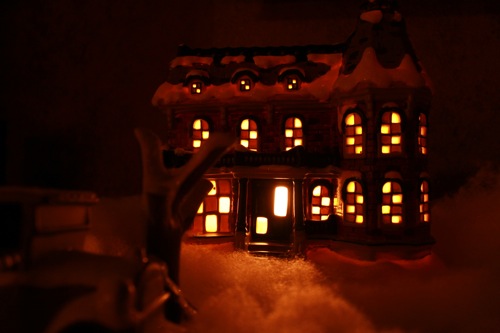 Does 320 Sycamore sound familiar?  Yes, this is the "It's a Wonderful Life" collection.  I am in LOVE with it.  It's very nice ceramic too. That's George Bailey's house and car in the above picture. :)  We didn't buy the whole set, but will start collecting pieces each year now.
I even bought a little chapel that doesn't go with this set, just because it was pretty.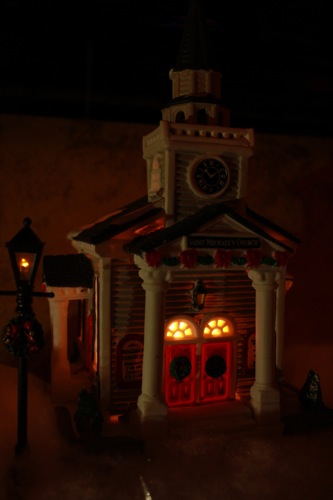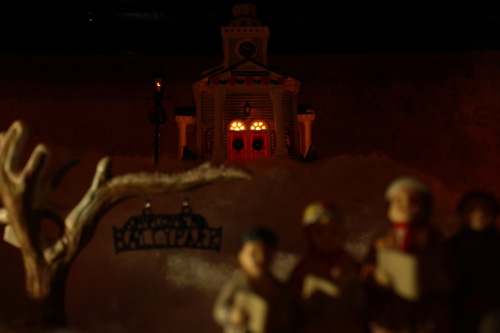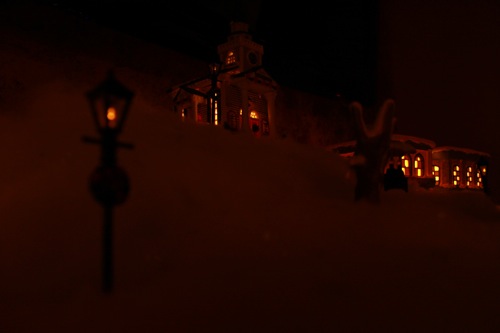 It's the chapel on a hill. :)  And what's even cooler is that the "hill" is the center speaker my husband leaves on the entertainment center.  I wish it could be hidden with snow all year round!
Some more pics…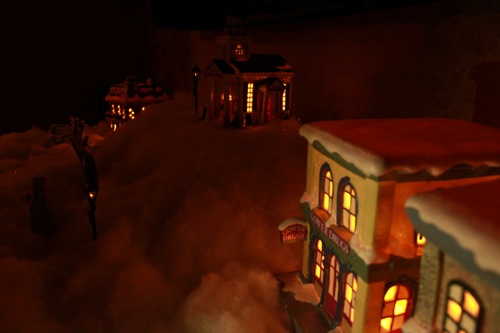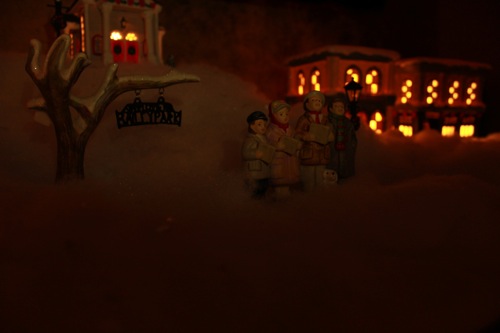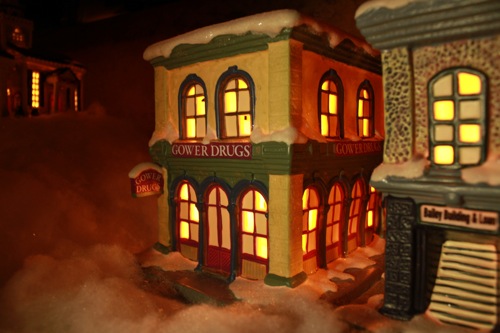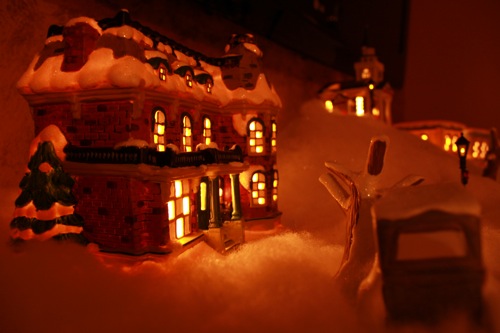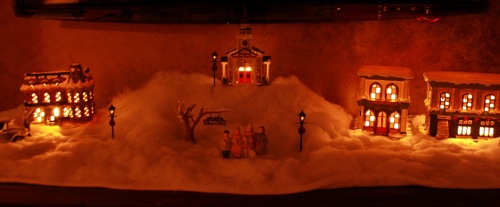 Pretty magical right?  Did you feel like you were in the village?  I must go watch the movie for the 700th time now because it's the greatest.
Now, I bet you are wondering how in the world those photos look so stellar aren't you?  That's courtesy of my honey.  I asked him to photograph this vignette because I knew I wouldn't do it right with it being dark and all.  We have this fancy smancy camera and I haven't even tapped into all of it's capabilities.  I'm learning, though. :)
And here is the vignette on our entryway table complete with cute snowmen, birdhouses, and other things that don't go together. But remember, I just do what I like!  :)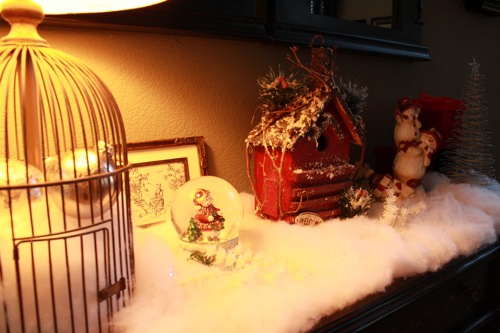 Snowmen are so cute.  Don't they look happy?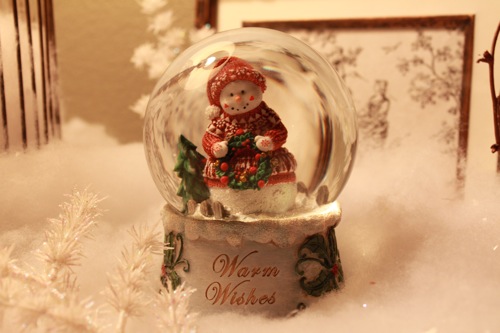 I'm loving all of this fluffy twinkly snow, but it's really messy.  Like my grandma always said "you have to suffer to be beautiful." :)
I love my wintry birdhouse.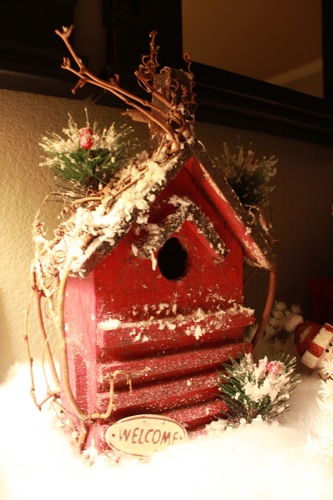 I cut a piece of my toile wrapping paper and put in a frame.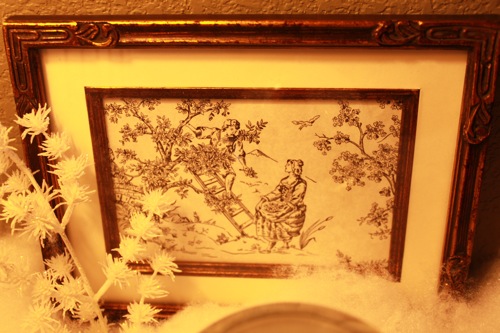 How easy is that?  I know it has absolutely nothing to do with this vignette, but I love that paper so much. :)
And the full table.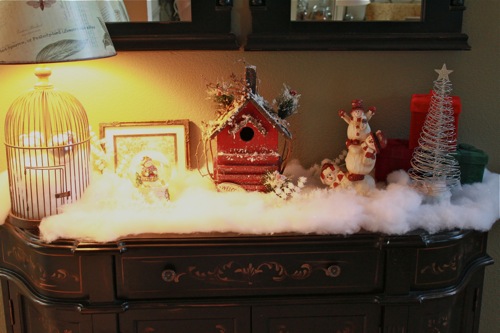 Those little gift boxes to the right are from the dollar store.  I thought they were so fun.  Raise your hand if you like fun!
Yay for Christmas!  Here is a sneak peek at what's to come tomorrow.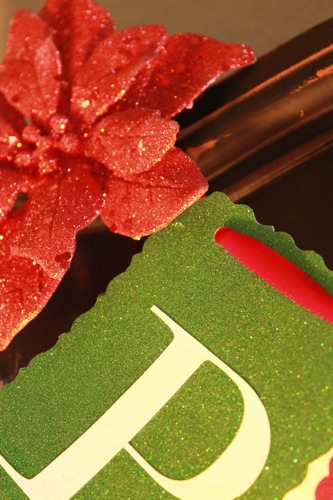 See you then!  :)
I will be sharing this post at Rhoda's vignette party, so get your pretty displays ready and link up too. :)  Also linking up at Hooked on Houses Holiday Home Tour's party, Thrifty Decor Chick and My Romantic Home
To enter the giveaway from Cutting Edge Stencils click here.
Also, thank you to my sponsors:
Altar'd – How to paint furniture guide, Altar'd – Decorative Finishes for Furniture, Savings Lifestyle, Willow House, Silhouette, Lisa Leonard, The Rusted Chain, Red Letter Words, The Vintage Pearl, Simple Fit RediShade, Cutting Edge Stencils, Knitty Bitties, Donahue Wellness
xxoo,
Decorchick!